Migratory Situation in Mauritania
November 1st, 2023 - written by: migration-control.info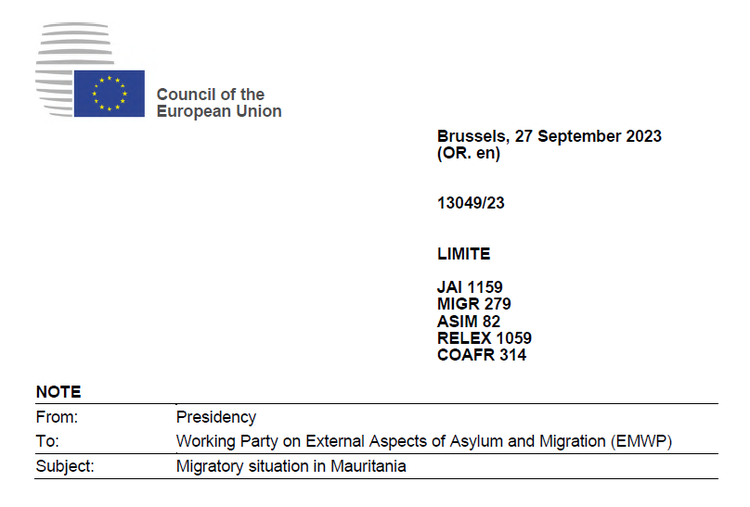 ---
This note from the European Council Presidency to the Working Party on External Aspects of Asylum and Migration introduces Mauritania as "a key country for stability in the Maghreb and the Sahel", noting Mauritania's longstanding cooperation in EU migration control and stressing its general geostrategic significance. This cooperation and significance are both set to increase in the near future, in light of a status agreement currently being negotiated that would authorise a Frontex deployment in the country, as well as Mauritania's relative isolation from the regional trend of coups and political instability. For these reasons, the document repeatedly reminds the EU of Mauritania's strategic importance, centres Mauritanian state concerns and requests at EU level, and even airs Mauritanian state grievances. Indeed, it states at the outset that Mauritanian authorities "recently expressed their desire to see EU cooperation strengthened in all areas" and concludes with questions about how this can be achieved.
Given that Spain currently holds the presidency of the European Council, it is also insightful to read it in the context of Mauritania-Spain migration control relations. Just a month prior to this document being circulated, the Mauritanian coast guard refused to disembark 170 Senegalese nationals who had been intercepted off its coasts by the Guardia Civil. This spat between the Spanish and Mauritanian security forces lasted a week, with Mauritania refusing disembarkation throughout, before the boat was eventually returned to Senegal. This episode was a rare rupture in what have otherwise been very smooth Mauritania-Spanish relations in the area of migration control cooperation. While the particulars of this episode are not known, it may be read as a Mauritanian signal to Spain about the former's importance to EU migration concerns, an importance which, the document suggests, Mauritanian authorities feel to be underappreciated.
Leveraging Mauritania's dual migratory profile
The document first highlights Mauritania's primary migratory trends, namely a rapidly growing Malian refugee population in the east of the country and ongoing departures to the Canary Islands. In a recent interview, Mauritanian President Mohamed Ould Ghazouani highlighted the former as being of "great concern" to him, as the Malian refugee population had doubled in the past year as a result of the degrading situation in north and central Mali, and it may increase further following the June 2023 coup in Niger. Mauritania's eastern border has indeed been a site of growing instability. A group of Mauritanian nationals were killed by armed forces on the Malian border in March 2022, and twenty more Mauritanians were reportedly kidnapped by Wagner mercenaries in June 2023. It is thus not surprising that the Mauritanian state should be preoccupied with securing this border, and that it is leveraging the issue of arrivals in Europe to increase support for doing so. Indeed, this mirrors the dynamic between EU actors and Sahelian authorities across the region, whereby the former's obsession with "irregular" Europe-bound migration is out of sync with Sahelian state concerns about the local destabilising effects of conflict-induced displacement.
What is surprising is how enthusiastically the document voices Mauritanian state concerns and perspectives. Indeed, it goes on to praise the "discreet and remarkable efforts to curb irregular migration" that the Mauritanian state has taken, crediting it and EU support for a significant drop in irregular arrivals from Mauritania, from 1,957 in 2021 to 200 in 2022. The document also notes with approval a regularisation campaign undertaken by Mauritanian authorities in 2022, during which 140,000 foreign nationals were reported to have regularised their stay, after the fee for the residence permit was waived and a campaign encouraging people to register undertaken. This episode differed markedly from a previous push to document the presence of foreign nationals that took place in 2012. On that occasion, the fee for the permit was also waived, and large numbers of people arrived at civil registry centres to enrol, but no permits were ever issued. This time around, the permits were delivered, but the document estimates that around 100,000 remain without legal status. As a result, their presence is likely to be more heavily policed by Mauritanian authorities. Indeed, the drop in "irregular arrivals" between 2021 and 2022 that the document highlights with approval necessarily implies an increase in repression of migrants in Mauritania.
The document goes on to voice calls that Mauritania has made to the EU and its member states, in particular its perceived need for an increase in support reflecting the "increased migratory pressure the country experiences due to the growing instability of the region", and the "comparatively greater support provided to countries in other migratory routes (i.e. Tunisia), despite Mauritania being one of its most long-lasting and reliable migratory partners." This claim that Mauritania has not received support commensurate with its level cooperation comes up more than once, as does this comparison with Tunisia.
EU Action in Mauritania
The document then lists ongoing EU actions in Mauritania in the area of migration control. These include:
The EUTF project "Creation of joint operational team to support the fight against migrant smuggling and the management of irregular migration in Mauritania (POC)", led by FIIAPP. The main objective of the project is to strengthen police and judicial investigation capacities against criminal networks linked to migrant smuggling and to improve the structural and operational capacities of the irregular migration management system.

EUR 25 M allocated directly to the Mauritanian government for the project "The EU for the security-resilience-development nexus", which consists of direct financial support for governance, border management, maritime security and migration.

It also lists four programmes funded under the new NDICI (Neighbourhood Development and International Cooperation Instrument), namely:
"Governance- Strengthening land and sea border management" (EUR 6,37 M). The programme is under preparation and will aim to reform the capacities, border infrastructures and available equipment.

"Territorial control, stability of border areas and migration management" (EUR 10,5 M estimated). This action, adopted in 2022, contributes to the regional Team Europe Initiative (TEI) "for a comprehensive approach to migration in the Maghreb, Sahel and West Africa on the Atlantic/Western Mediterranean route."

The EU is supporting refugees and host communities in M'Berra Camp (EUR 5 M). This action, adopted in 2021 is funded under the regional programme "Durable solutions for displaced populations in Africa" (RMIP). It provides a response to forced displacement of Malians hosted in Mauritania's South-East border. The EU is supporting refugees and host communities in M'Berra Camp (EUR 5 M).

"Preventing irregular migration in and from Mauritania through reinforcing its youth and migrants access to TVET and jobs" (EUR 20 M) under the Flexible Mechanism..

It goes on to list further projects:
In the framework of HOME funds (RDPP/AMIF - implemented by Italy), two new projects have been signed with IOM and UNHRC for the Registration, Documentation and Refugees Status Determination as well as for the support to the institutional and community care of vulnerable children.

Migration TEIs. As regards the TEI of the Atlantic/Western Mediterranean Route, the EU, its Member States and Switzerland have so far mobilized EUR 908 M to support cooperation with several African countries, including Mauritania and Senegal.

Mauritanian authorities are in the process of negotiating with FRONTEX a working arrangement which would provide Mauritanian border management authorities with capacity building and intelligence information.

On the latter front, it also notes that a Frontex Risk Analysis Cell inaugurated in September 2022 is now operational.
The document concludes with three questions posed by the Council Presidency to the Working Group which, again, reiterate Mauritanian state concerns and requests. These involve a need for support for short-term response to "migratory pressures"; Mauritania's "perceived unequal treatment by the EU, especially in comparison to other countries like Tunisia"; and a need for enhanced "communication with Mauritanian authorities, keeping them consistently informed about agreements with other countries."
The overall impression is that Mauritanian authorities feel aggrieved and underappreciated for the role they fulfil in the EU border regime, particularly compared with Tunisia, whose racist repression of migrants has been generously rewarded by the EU. In this light, the conspicuous absence of any mention of migrant rights from the document is disconcerting. The praise offered by the Council Presidency focuses exclusively on the reduction in arrivals in Europe and the security situation in Mauritania. This is especially concerning in light of the lack of fundamental rights guarantees and legal accountability associated with the prospective Frontex Status Agreement. In other words, Mauritanian state goodwill is of value to the EU border regime because the country is viewed as a site in which perceived threats to European security can be effectively contained.
---