At What Cost?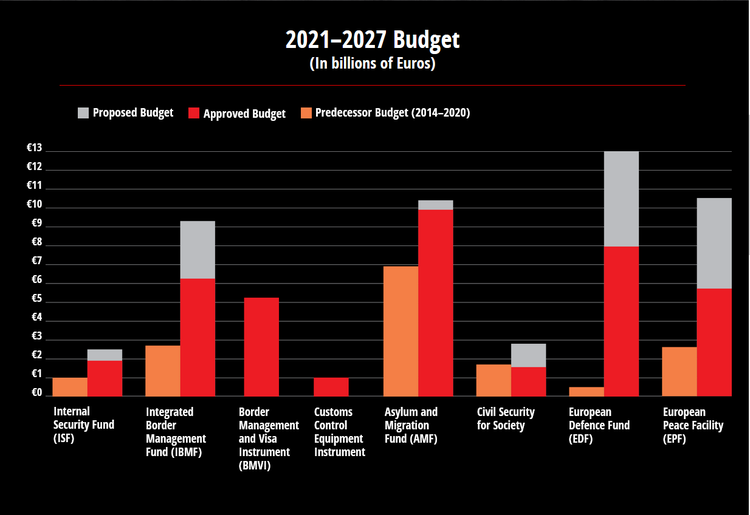 This report reveals that:
The 2021–27 Multi-annual Financial Framework allocates an unprecedented amount of European public money for security and defence purposes, more than doubling its budget from one spending cycle to the next.
The overall amount of money earmarked for security and defence spending is €43.9 billion, an increase of more than 123% when compared to the previous seven-year budgetary cycle, which allocated €19.7 billion for the same purpose.
The largest increase from the previous budgetary cycle can be seen in the European Defence Fund, which replaces its precursor programmes (Preparatory Action on Defence Research and European Defence Industrial Development Programme) with a massive funding increase of 1256%, to reach a total of almost €8 billion. This money will, for the first time, be used for the research and development of high-tech military weaponry.
The European Peace Facility, which may be understood as replacing the Athena mechanism and African Peace Facility, will increase its budget by 119% to €5.7 billion. This means that 31% of the overall spending will go on military weaponry research and development and an off-budget military initiative with almost no democratic scrutiny, oversight or transparency whatsoever.
Other significant budget hikes include the Internal Security Fund, which will increase by 90% to €1.9 billion, the Integrated Border Management Fund – Border and Visa, which will increase by 131% to €6.2 billion and the funds being made available to agencies such as Frontex and Europol, which will increase by 129% to €9.6 billion. The increase of the Asylum and Migration Fund is less notable at 43% but the instrument will still receive a substantial €9.9 billion.
The Citizens, Equality, Rights and Values Programme will increase its budget by 124%, to reach €1.4 billion, but this figure should be put in to context – it pales in comparison to the €43.9 billion being invested in militarised security and defence initiatives. Funding for law enforcement, border control, military research and development and operations (€43.9bn) is 31 times higher than funding for rights, values and justice (€1.4bn). Furthermore, the majority of the latter funds will still be awarded to states rather than independent organisations.
In addition to the aforementioned funds, development aid will be redirected towards border management and will play an increased role in enhancing non-EU states' ability to control migratory movements. The European Development Fund and EU Trust Fund for Africa have both been used to pursue migration policy objectives, and in the 2021–27 period 10% of the new €79 billion Neighbourhood, Development and International Cooperation Instrument (NDICI) 'should be dedicated particularly to actions supporting management and governance of migration and forced displacement within the objectives of the Instrument'.
| | |
| --- | --- |
| Full title | at what cost? Funding the EU's security, defence, and border policies, 2021–2027 A guide for civil society on how EU budgets work |
| Publisher | Statewatch and the Transnational Institute |
| Year | 2022 |
| Media type | Website and Report |
| Link | https://eubudgets.tni.org/ |
| Topics | European Agencies (Frontex, GIZ & Co), Border and Surveillance Technology & Industry, European Externalization Policies & Cash Flows, Military Missions |
| Regions | Europe, All Regions |