Expanding the Fortress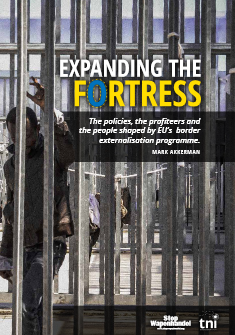 This report seeks to shine a spotlight on the policies that underpin this externalisation of Europe's borders, the agreements that have been signed, the corporations and entities that profit, and the consequences for forcibly displaced people as well as the countries and populations that host them. It is the third in a series, Border Wars, that have examined Europe's border policies and shown how the arms and security industry has helped shape European border security policies and have then reaped the rewards for ever more border security measures and contracts.
This report shows a significant growth in border externalisation measures and agreements since 2005 and a massive acceleration since the November 2015 Valletta Europe – Africa Summit. Using a plethora of new instruments, in particular the EU Emergency Trust Fund for Africa (EUTF), the Migration Partnership Framework and the Refugee Facility for Turkey, the European Union and individual member states are now providing millions of euros for an array of projects to stop migration of certain people from taking place on or across European territory.
This includes collaboration with third countries in terms of accepting deported persons, training of their police and border officials, the development of extensive biometric systems, and donations of equipment including helicopters, patrol ships and vehicles, surveillance and monitoring equipment. While many projects are done through the European Commission, a number of individual member states, such as Spain, Italy and Germany also take a lead in funding and training through bilateral agreements with non-EU-countries.