Financing Border Wars
This report seeks to explore and highlight the extent of today's global border security industry, by focusing on the most important geographical markets—Australia, Europe, USA—listing the human rights violations and risks involved in each sector of the industry, profiling important corporate players and putting a spotlight on the key investors in each company.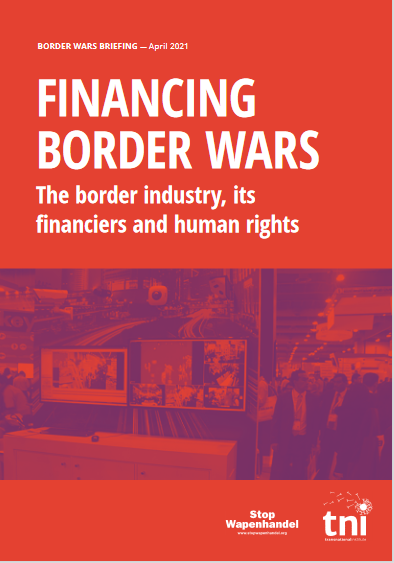 The border industry is experiencing spectacular growth, seemingly immune to austerity or economic downturns. Market research agencies predict annual growth of the border security market of between 7.2% and 8.6%, reaching a total of $65–68 billion by 2025. The largest expansion is in the global Biometrics and Artificial Intelligence (AI) markets. Markets and Markets forecasts the biometric systems market to double from $33 billion in 2019 to $65.3 billion by 2024—of which biometrics for migration purposes will be a significant sector. It says that the AI market will equal US$190.61 billion by 2025.
The report investigates five key sectors of the expanding industry: border security (including monitoring, surveillance, walls and fences), biometrics and smart borders, migrant detention, deportation, and audit and consultancy services. From these sectors, it profiles 23 corporations as significant actors: Accenture, Airbus, Booz Allen Hamilton, Classic Air Charter, Cobham, CoreCivic, Deloitte, Elbit, Eurasylum, G4S, GEO Group, IBM, IDEMIA, Leonardo, Lockheed Martin, Mitie, Palantir, PricewaterhouseCoopers, Serco, Sopra Steria, Thales, Thomson Reuters, Unisys.
| | |
| --- | --- |
| Full title | Financing Border Wars. The border industry, its financiers and human rights |
| Publisher | Stop Wapenhzandel / TNI |
| Year | 2021 |
| Media type | Book / PDF |
| Link | https://www.tni.org/en/financingborderwars |
| Topics | European Agencies (Frontex, GIZ & Co), Border and Surveillance Technology & Industry |
| Regions | Europe |