Pushing Back Responsibility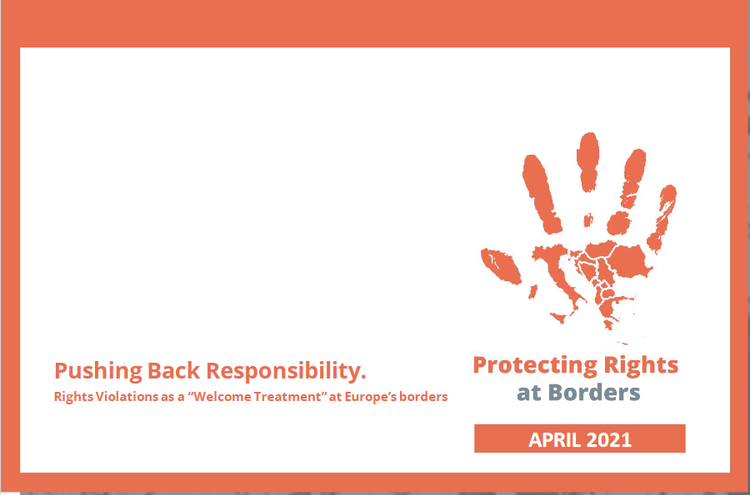 Between January and April 2021 civil society organizationsin 6 different countries collected testimonies of 2162 cases of pushbacks, including chain pushbacks over multiple countries. The rights violations were recorded at different borders in Italy, Greece, Serbia, Bosnia-and-Herzegovina, North Macedonia, Hungary. Over a third of pushbacks were accompanied byrights violations (denial of access to asylum procedure, physical abuse and assault, theft, extortionand destruction of property), at the hands of national border police and law enforcement officials. This is however merely the tip of the iceberg, as pushbacks and these types of rights violations are likely to occureven more frequently, but go often undetected. Further,testimonies collected at different borders seem to point to cooperation practices between different EU Member States, to circumvent their responsibility and push unwanted groups outside of the EU.
The PRAB initiative includes partner organizations operating across a range of differentcountries: Italy (Associazione per gli Studi Giuridici sull'Immigrazione (ASGI), Diaconia Valdese (DV)and Danish Refugee Council (DRC) Italy); Hungary (Hungarian Helsinki Committee); Bosnia and Herzegovina (DRC BiH); Serbia (Humanitarian Center for Integration and Tolerance (HCIT)); North Macedonia (Macedonian Young Lawyers Association (MYLA)); Greece (Greek Council for Refugees (GCR)and DRC Greece); and Brussels (DRC Brussels).Since January 2021, thePRAB partners have harmonized data collection methods and strengthened a coordinated evidenced-based approach to ending rights violations at Europe's borders. The present report brings together:
•Data on pushbacks, as well as rights violationduring these illegal practices, for amultitude of borders at the EU's internal and external frontiers.
•An overview of increasing protection concerns and a lack of legal pathways.•An update on legal venues addressed and relevant jurisprudence.
•Policy recommendations,as good faith is not enough to ensure that border management is human-rights compliant.
Also See: Guardian 12.05.21:
EU states cooperating informally to deny refugees asylum rights – report
| | |
| --- | --- |
| Full title | Pushing Back Responsibility. Rights Violations as a "Welcome Treatment" at Europe's borders |
| Publisher | PRAB Initiative |
| Year | 2021 |
| Media type | PDF |
| Link | https://drc.ngo/media/mnglzsro/prab-report-january-may-2021-_final_10052021.pdf |
| Topics | Border and Surveillance Technology & Industry, Criminalization of Borderwork - Trafficking, Detention, Deportation & Pushbacks, European Agencies (Frontex, GIZ & Co), Migration Routes & Transport |
| Regions | Europe |