Israel
Published September 15th, 2021 - written by: Judith Poppe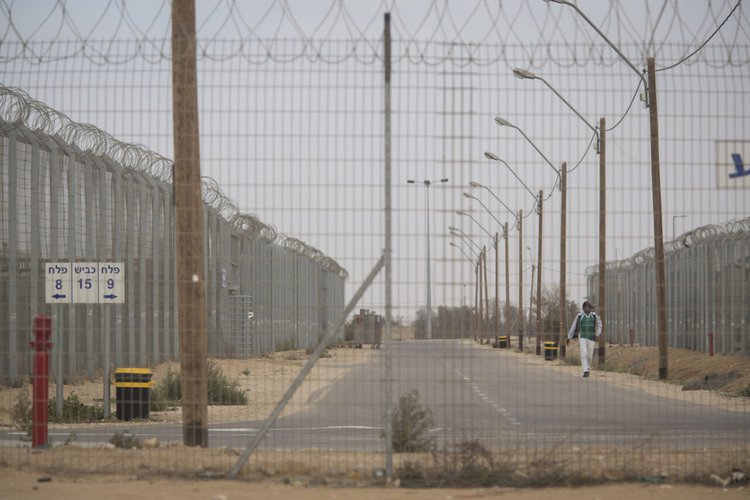 Mahari Gebremichael Beyin doesn't seem to know the word resignation. The 37-year-old hands a woman a few iced water bottles over a chest-high counter and drops a few Israeli shekels into the till. Just a week ago, he opened a small kiosk in the HaTikva neighbourhood in south Tel Aviv in hopes to make a living. Ten years ago, he fled his home country of Eritrea. "If it doesn't work out, I learn from it," he says, smiling.
Mahari, a high school teacher, left Eritrea in 2010, like many who had openly opposed the repressive government's policies. Mahari had criticised the fact that all 11th grade graduates are sent to the Sawa military school. Since 2003, the government has forced all students in the last year of secondary school to undergo compulsory military training in a military camp. According to Human Rights Watch, after the training, they are often forced into indefinite army service, either in military or civilian roles. In military training and during conscription, they are subjected to systematic ill-treatment, including torture, harsh working conditions and pay that is insufficient to support a family.
In the face of Mahari's voiced criticism, state security officials came to his home one day and interrogated him. "Why are you asking these questions?" they asked and took him to jail. During the evening exit, when prisoners are allowed to leave their cells for an hour, he managed to escape with three other detainees. He decided to flee to Khartoum in Sudan first, paying 150 Sudanese pounds to transporters. But instead of Khartoum, they took him to Sinai, to one of the notorious Bedouin torture camps. "For a month, they kept me there. The place I was in was not the worst camp, I must say. They gave me bread and a little water, not enough to wash myself." They demanded $2,500 ransom for his release, untold money for Mahari's family. Mahari called his father, who turned to all his relatives to raise enough money. After a month, the money arrived, and Mahari was taken to the Israeli border with others who had been detained in the camp.
Mahari is one of just over 30,000 refugees and asylum seekers currently living in Israel. 92 per cent of them are from Eritrea and Sudan, according to figures from Israel's Population and Immigration Authority.
Most of them live around the Central Omnibus Station in the south of Tel Aviv, in the neighbourhoods of HaTikva and Neve Sha'anan. In Neve Sha'anan, many of the refugees have set up their own world, one Injeera restaurant follows the next, and the televisions there usually play an Eritrean pop music station. The beer labels are written in Tigrinya, the official language of Eritrea, and there are vegetable and home goods shops in garages only a few square metres in size, where toasters, radiators, and cooking pots are stacked up to the ceiling.
After Maharishi was picked up by Israeli soldiers at the border, he was detained in Saharonim. Saharonim is a detention centre for African refugees in the Negev Desert. After a month and a half in detention, he was put on a bus and taken to the Central Omni bus station in South Tel Aviv. "I had nothing to eat, no work," Mahari recalls, "But our culture helped us," he explains. "When you see someone who has nothing to eat, you help them." Mahari also found support in this way. An Eritrean man took him and a friend to his home, fed them, let them sleep at his place. From there, they looked for jobs and a room where they stayed with ten other refugees. "It was difficult," says Mahari: "Our legs were practically bumping into each other.
Asylum seekers from African countries are referred to in Israeli legislation only as "infiltrators", and "invaders". With this term, the official language refers to the "Law for the Prevention of Infiltration" passed in the 1950s. This law is the central basis for Israel's treatment of refugees from African countries. Originally, it was intended to prevent Palestinians who had fled or been expelled to neighbouring countries during the 1948 war from entering Israel to recover the property they had left behind or to move back into their homes. Later, this law was used against the so-called Fedayeen: armed fighters who came to Israel from Egypt to carry out terrorist attacks against the young state.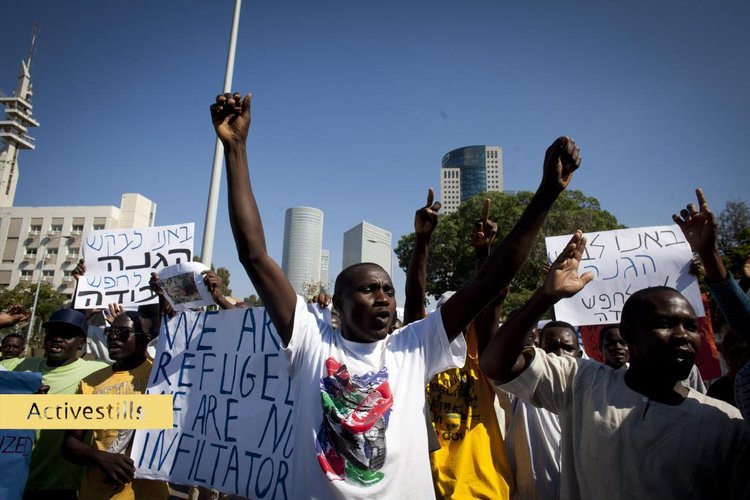 The Geneva Convention on Refugees, to which the State of Israel is a party, prescribes the individual examination of refugee status. For years, however, the Israeli government blocked the admission of refugees from Eritrea and Sudan to this procedure, claiming that they were protected as a group because of their origin and Israel's commitment not to deport them to these two countries. A new report by the non-governmental organisation HIAS Israel from August 2020 shows that the recognition rate of refugees in Israel is only 0.06%.
The residence permits Israel issues are in the vast majority of cases temporary, including Maharis. He has to renew his visa every three months - and has done so for ten years. Only 18 Eritrean nationals and one Sudanese have been formally recognised as refugees so far. 600 Sudanese nationals were granted special protection in 2007. On 13 October 2020, the Israeli Supreme Court ruled that they are indeed Convention refugees, such as refugees under the Geneva Refugee Convention, but their visa status has not changed as a result. Only the 19 people recognised as refugees have work permits.
Mahari is not one of these 19 people and therefore does not have a work permit. His legal situation, like that of almost all of the 30,000 asylum seekers in Israel, is absurd. They are employed illegally, but their employment is regulated by law. The employed asylum seekers have to pay the maximum tax rate, for example. There are no tax breaks for them. So, the Israeli state profits immensely. Employers are also obliged by law to provide health insurance for illegally employed asylum seekers. However, many employers violate these regulations without any legal consequences. In 2011, the Supreme Court ruled that violations of the regulations are not legal, but not punishable.
Mahari found his first job as a dishwasher in a restaurant on the beach in Tel Aviv. It was back-breaking work, twelve hours a day washing dishes, with an hourly wage of the equivalent of about 6 euros he could earn a little over the equivalent of 1,000 euros a month - not much given the high cost of living in Israel. Every month he sends money to his family in Eritrea and also tries to put something aside. He did not have an official work contract, nor did he have social security or health insurance. Later, he found a somewhat better-paid job in construction. He was able to earn the equivalent of between 2,000 and 2,200 euros a month there, but even there, he had neither an employment contract nor health insurance. When he crushed his finger while working on a crane and lost it, he could not fall back on health insurance - he was lucky that his employer covered the costs of medical treatment.
Most other asylum seekers are also employed in the service sector - in restaurants and hotels - and in construction. There, they are sought-after labour. Their precarious status is exploited by employers who pay them low wages. They can also usually assume that the asylum seekers will do a lot of work. "There is no unemployment among asylum seekers," explains Sigal Rosen of the Hotline for Migrants and Refugees, a large Israeli NGO that protects the rights of refugees, migrant workers, and victims of human trafficking: "Employers in the service and construction sectors benefit from asylum seekers."
Nevertheless, the Israeli government is trying numerous strategies to get rid of the refugees or to prevent them from entering the country in the first place. According to Rosen, this is also due to the "social cost" that the government includes: "the cost of hosting a non-Jewish population in the long run." For many Israelis, retaining a Jewish majority in the state of Israel is of particular importance. They feel that they have to maintain this majority, especially vis-à- vis the Palestinians. For them, the existence and security of the country depend on a Jewish majority - which they see threatened by non-Jewish immigration.
In 2010, the Israeli government decided to build a 245-kilometre fence along the border with Egypt. The sealing-off plan was frighteningly successful. After construction work was completed, almost no new asylum seekers entered Israel as early as the end of 2013. Raising the fence in places and using more technology in 2016 ensured that even fewer refugees entered the country. In 2016, there were still 20 border crossings, according to figures from the Israel Population and Immigration Authority; in 2020, there were none.
According to Rosen, there are hidden cameras and thermal imaging cameras near the fence that can track movement up to about 4-5 kilometres into Egypt. If someone is spotted, Israeli soldiers* contact the Egyptian army, who apprehend, detain and deport them, to home or third countries. "You don't see images like on the border from Mexico to the USA with people climbing over walls or fences because of this technology from the Egyptian-Israeli border. The refugees are intercepted long before they reach the border." According to media reports, the sum for the construction of the fence is around 400 million euros. According to Rosen, ironically, many asylum seekers who had crossed the border shortly before were used by the construction companies involved to build the fence.
For those asylum seekers who are already in the country, the Israeli government is trying to get them out of the country again with harassing regulations and deportations. This includes the so-called bail law, which was introduced by the right-wing government under the then head of government Benjamin Netanyahu in 2017. Non-governmental organisations criticised the law for making it more difficult for asylum seekers to be employed and for putting economic pressure on them to leave Israel. Under the bail law, employers of asylum seekers had to withhold 20 per cent of their employees' monthly salary and keep the money in a bail fund. The accumulated money could only be returned if an asylum seeker agreed to leave the country permanently.
However, the struggle of the refugee movement and various non-governmental organisations against the law was successful in April 2020. The Supreme Court ruled that the deduction was illegal and ordered the state to pay back the asylum seekers' money. The ruling was significantly influenced by a petition submitted by the NGO ASSAF together with Kav LaOved, Physicians for Human Rights-Israel, the Hotline for Refugees and Migrants, Association for Civil Rights in Israel, and the African Refugee Development Center in March 2017. It came during the time of numerous and long lockdowns due to the coronavirus pandemic. The repayment of the 20 per cent of their salary that had been deducted each month helped some refugees through this period. But many asylum seekers have still not received their money: According to the non-governmental organisation for refugees ASSAF, almost 200 million euros have been deducted from the salaries of asylum seekers, but never paid into the funds and apparently put into the employers' own pockets.
The situation was particularly difficult for refugees during the lockdowns. Many of them could not pursue their jobs in the service sector and, unlike Israeli nationals, received no state support.
Mahari started to organise help with some other refugees and human rights organisations. They rented a small shop near the Central Omnibus Station and collected clothes, toys, and food. "I worked around the clock, but when I fell into bed, I was happy that I could help people." Mahari reports: "Only when I reached the limits of our possibilities, like when a single mother sat with us crying because she couldn't pay the rent and we could barely help her, I couldn't let it go." Mahari still volunteers and helps other refugees with technical or language problems with their visa applications. Many of them barely speak Hebrew, Mahari taught himself the language on the computer.
The movement's counter-pressure has also been successful against the Israeli government's plan to deport asylum seekers from African countries to so-called "safe" third countries.
In 2014, Israel began deporting asylum seekers to supposedly safe third countries such as Rwanda and Uganda under the misleading label of "voluntary return." The economic pressure built up on the refugees by the regulations, as well as the promise that the refugees could apply for asylum there thanks to an agreement with third countries, caused between 600 and 1,500 refugees to leave the country between 2014 and 2017. Several human rights organisations complained against this practice and accused the Israeli government of deceiving the asylum seekers by saying that there was an agreement that allowed them to apply for asylum in third countries. Testimonies from deportees, however, suggested that this was not possible.
In 2018, the Israeli government stepped up its efforts to expel refugees from the country. On 1 January, the Immigration Department issued a public call to "invaders", writing that asylum seekers must leave Israel within 60 days or would be detained indefinitely. The call first affected those whose asylum applications had been rejected or who had not yet applied for asylum. Women and minors were also initially exempted.
Demonstrators protested outside Rwandan embassies around the world, calling on the Rwandan government to refuse to cooperate with Israel, and tens of thousands of Israelis and refugees took to the streets in Tel Aviv to protest the plans.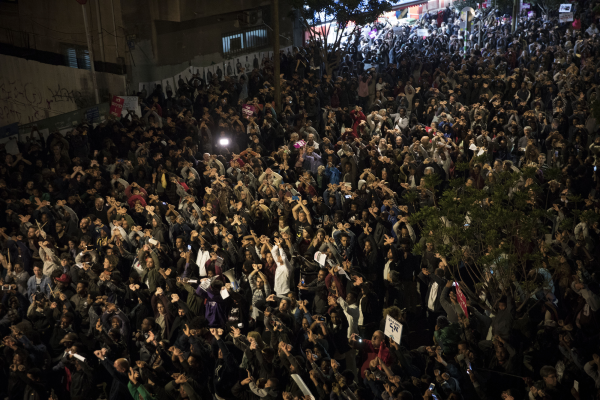 In February 2018, the first refugees were taken to Saharonim prison in the Negev desert. However, the Supreme Court stopped the process and ruled that the procedure was akin to forced deportation and thus not legal, referring to an earlier ruling from 2017. Major international pressure also ensured that Rwanda announced that it had no agreement with Israel. In a zigzag course of the then Prime Minister Netanyahu, he first declared that Rwanda had withdrawn from the agreement and that Israel had concluded an agreement with the UNHCR. In this agreement, Israel had committed itself, among other things, to distributing the refugees throughout the country and to investing the money saved by the non-execution of the deportation plan in South Tel Aviv. Only a few hours later, however, he cancelled the agreement due to pressure from within his own ranks. His new promise was that he would do everything possible to expel all asylum seekers from the country.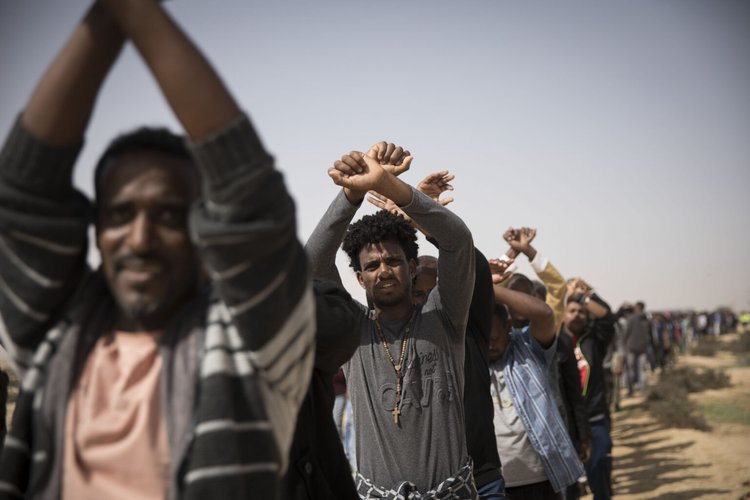 However, shortly after Uganda also announced that there was no agreement with Israel, more than 200 detainees were released - all those who had refused to leave the country and were therefore taken to Saharonim. Rosen, from the Hotline for Refugees and Migrants emphasises, however, that despite the lifting of forced deportation, the authorities continue to work to push asylum seekers to the brink of despair until they have no choice but to consent to deportation.
Mahari's big dream is to do his Master's degree in economics - he already did his Bachelor's degree in Eritrea before he had to leave the country. "Whether that is possible or not depends on the new government," says Mahari, looking out from his counter onto the street in HaTikva. In June 2021, the twelve-year Netanyahu era ended. The new government coalition includes extreme right-wing and left-wing parties. It will initially be led by the right- wing settler leader Naftali Bennett; after two years, the centrist Yair Lapid of the Future Party will take the helm. It remains to be seen whether this government will change course on refugee policy.
The cover picture shows a refugee in the Holot detention centre in the Negev desert, Israel. Photo: Oren Ziv, 06.02.16. All photos are taken by ActiveStills. Thanks for allowing us to publish them!