Mass deportations and EU externalisation in Tunisia: Press Review and Critics
August 2nd, 2023 - written by: migration-control.info
Twittter & Activist Sites, Videos
03.07. Lauren Seibert: 🚨Alert: #Tunisia security forces abused & collectively expelled 20+ West/Central African nationals to a remote area at the Tunisia-#Libya border. Includes a girl 16 yrs old, 2 pregnant women (1 in very bad condition), 2 registered asylum seekers. They need urgent help. […] These migrants & asylum seekers, including at least 1 child & 2 pregnant women (one ill & bleeding), are stranded in a closed, militarized Tunisia-Libya border zone.⚠️
We informed UN agencies but #Tunisia authorities have not yet granted access for them to help these people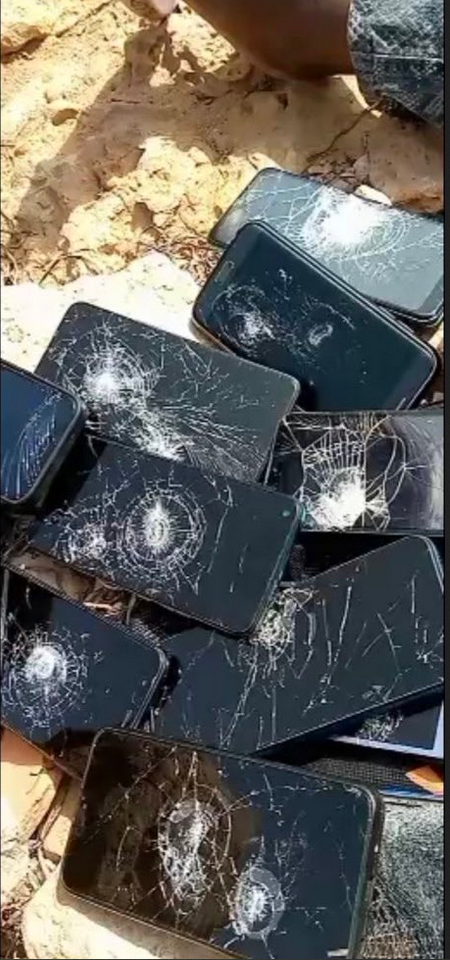 04.07. Alarmphone: Tunisia: After a house raid in #Sfax 48 people were arrested and 20 of them expelled to #Libya by Tunisian military. They are now in the border region & are urgently asking for help: They were threatened by gunmen, money & food was taken away, their mobile phones were destroyed.
04.07. Lauren Seibert (with video): 🚨 Alert: over 100 more African migrants & asylum seekers expelled today by #Tunisia to #Libya border zone (Ben Gardane area). Includes at least 12 children ages 6 months to 5 yrs. This is in addition to the 20 expelled Sun, July 2. They gave permission for me to share videos
05.07. RiT (with video bus transfer): Europe's border externalisation in action📌
Kicked out of their homes📌 Children, Women, minors and Men, all crammed into a buses📌 The Sahara desert with a scorching sun is their destination to be dumped like a waste📌 The fortress Europe in the face of the weak📌
05.07. Lauren Seibert (with 3 videos): Now up to 400-500 stranded at the militarized border zone between Tunisia & Libya. They told me of violence, people are dying, some women raped who went to Libya side
06.07. France 24 (Video): Sfax a veritable 'pressure cooker' sparked by migration policy and political, socio-economic crises
07.07. Ka: Video by a person from Ivory Coast
08.07. AJE (Video): Tunisia-Libya Border: Refugees and Migrants Stuck
08.07. RiT (with AJE video): For a day we lost contacts to our comrades who were kicked out of #Sfax. But @AJEnglish brings horrible accounts from there as over 1200 people are stuck between two borders where neither of them are wanted.
Some with serious wounds
Children under scorching sun
No water, no food.
European migration policy speaks for itself.
10.07. RiT (With Photo): They have nowhere to hide from the scorching sun, whether trees. This is how many migrants and refugees spend their day in Sfax after most of them were expelled from their homes.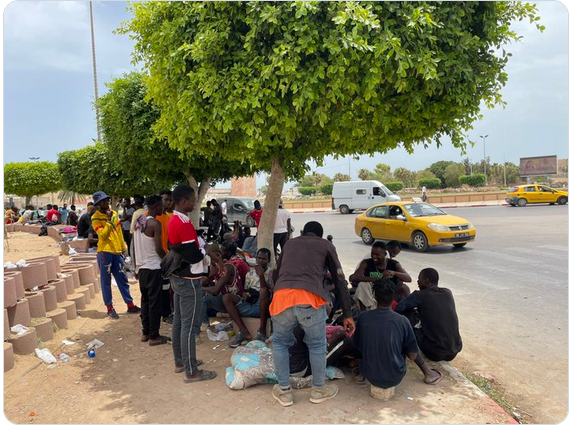 10.07. درة السيد @DorraEssayed: Video Expulsion
12.07. Bassam Bounenni: #Tunisia Education unions in the southern city of Ben Guerdane ask local authorities to kick out migrants from a dormitory. The city became famous in 2011 when it hosted 100s of 1000s of people fleeing #Libya's war.
15.07. Lauren Seibert: 🚨Juxtaposition: @EU_Commission @vonderleyen visiting #Tunisia this weekend to push for funding deal on migration control… while Black African migrants the Tunisian authorities expelled to #Libya border remain stranded, calling for help, water, medical care. Including children.
15.07. Maldusa: On the Move - Lampedusa arrivals and transfers:
During the last days again several thousand people on the move reached Lampedusa, mainly after escaping with boats from the tunisian city of Sfax, where they were targeted by r.acist violence. Partly alarmed and accompanied by civil fleet actors (by phone, by air and by sea) the Italian coastguard ships accompanied most people to the harbour.
15.07. RiT: Dozens of human rights defenders and activists demonstrated yesterday in Tunis, the capital, to demand a solution for the migrants stranded at the borders between Tunisia and Libya, and the need to find a place to shelter these people.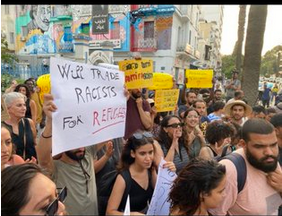 17.07. CNN: Video: Beaten and abandoned in the desert -- migrants stranded at Tunisian border
17.07. Libya Observer: Video: Footage emerged showing the Tunisian army sending African migrants to desert areas in #Libya. A migrant said that the Tunisian army forced them to go to Libya and threatened them that if they return back to #Tunisia, they will be shot
17.07. Alarmphone: While Tunisian security forces continue to force people into the desert, #TeamEurope agreed to a new migration deal, in full knowledge of the atrocities that the Tunisian government is carrying out
17.07. Alarmphone: Video: Voices from the desert:
Hundreds of people are stuck in the borderlands following the mass deportations from Tunisia. Meanwhile, #TeamEurope & #Tunisia toast their new agreement.
Every day we receive videos & testimonies documenting the violence & dire situation.
Don't look away.
18.07. Alarmphone: Still abandoned! This morning, we could reconnect with the group that was deported into the desert by Tunisian forces. They say that 3 people were stung by scorpions and urgently need medical help. They are still without food and water. When will this cruelty finally end?
20.07. RiT: What a shame #tunisia this woman and her child died.😭😭#Rip in the desert in Tunisia. You have to imagine its final meaning without water or food. When the colonizer agrees #EU with the one who sold his conscience for money, this is the result.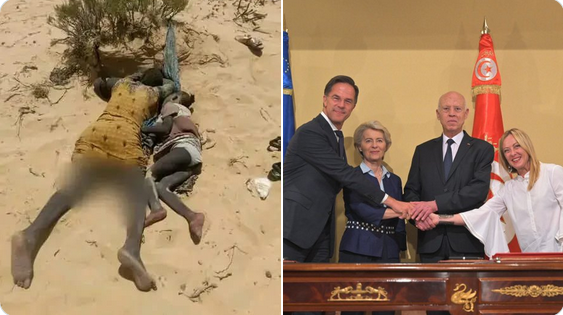 20.07. RiT (Photo): Shade of an Olive Tree
22.07. MCI: Radiobeitrag zur Situation in Tunesien
29.07. ANSA: Migranti: a Milano mobilitazione per Fati Dosso e Marie, trovate morte nel deserto tra Tunisia e Libia - Italia - Ansa.it
Il presidio si e' tenuto di fronte al consolato tunisino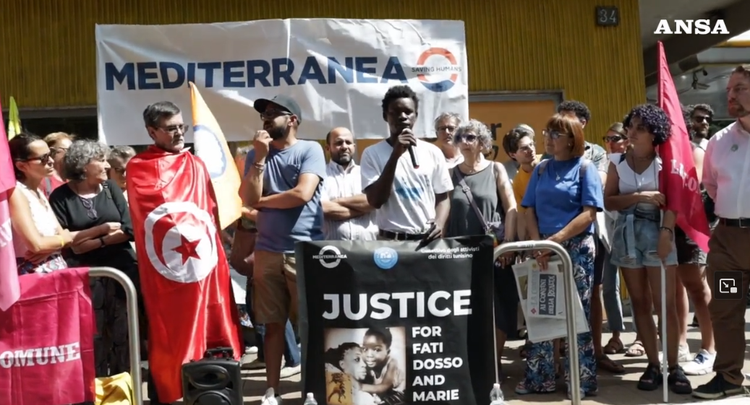 02.08. Charlotte Boitiaux (mit Video): Kelvin, notre contact à #RasJdir, à la frontière #Tunisie-#Libye, est en vie. Avec ses 150 camarades, il a organisé une #manifestation hier pour dénoncer leur abandon dans le désert.
Cela fait 3 semaines (!!!) qu'ils survivent là, avec des femmes et des enfants.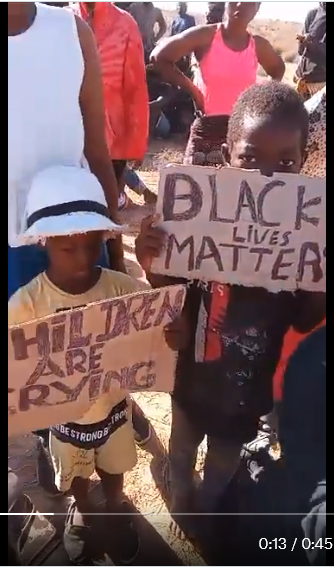 Press News July 2023
26.06. MEMO: Tunisians protest against irregular migrants: Hundreds of Tunisians yesterday participated in two demonstrations in the southern city of Sfax against the presence of irregular migrants in the city, Anadolu reported. The participants raised banners that read "Sfax is not a transit area" and "irregular immigration is a threat to the Republic" and others calling for "the imposition of visas on travellers coming from sub-Saharan countries".
27.06. Infomigrants: Naufrage en Tunisie : "Les rescapés racontent que les garde-côtes ont jeté du gaz lacrymogène dans le canot": Selon des témoins contactés par InfoMigrants, un quatrième naufrage a eu lieu ce 22 juin. Un bateau de 97 migrants a sombré après son départ de Sfax, dans le centre-est de la Tunisie. "Ce que l'on sait, c'est que ce naufrage a eu lieu peu après le départ, non loin des côtes", explique Eric Tchata, président de la diaspora camerounaise en Tunisie, joint par InfoMigrants. "Il y avait 97 personnes à bord, d'après les dires d'une des rescapées". Cette survivante, mère de famille, Claire*, a perdu son fils de cinq ans dans l'accident.
27.06. Euractiv: Tunisia pact a 'blueprint' for new 'cash for migrant' deals, says EU chief: The EU should make its recently-agreed 'cash for migrant control' deal with Tunisia a model for similar deals with other countries, European Commission chief Ursula von der Leyen said in a letter to EU leaders ahead of a Brussels summit on Thursday (29 June). "Our aim should be for our current initiative with Tunisia to act as a blueprint for similar partnerships in the future," wrote the Commission President in the letter seen by EURACTIV, adding that the "Commission will seek new comprehensive partnerships with third countries".
"We need to follow-up consistently with partner countries and in this regard, I reiterate the importance of signing the post-Cotonou agreement, which is a comprehensive legally binding framework, central for cooperation activities, including on migration, with partner countries," wrote von der Leyen.
04.07. MEMO: Tunisia: locals and migrants clash in Sfax: Speaking to Radio Mosaique, Al-Masmoudi said that initial enquiries suggest that skirmishes took place between local residents and a number of sub-Saharan Africans who live in the same neighbourhood. These developed and spread onto the streets, where stones were thrown, damaging cars and injuring people.
04.07. TNH: The EU is fuelling migration from Tunisia, not stopping it: By legitimising Tunisian President Kaïs Saïed's increasingly authoritarian grip and bolstering the country's security apparatus in the name of stopping migration, the EU is not only turning a blind eye to the worsening corruption, collapsing economy, and deteriorating human rights situation in Tunisia – it is actively contributing to the factors pushing more to migrate and risk their lives.
Tunisia was recently offered more than one billion euros ($1.1 billion) by the EU to help stabilise the country's economy and curb migration across the Mediterranean. For his part, Saïed said that Tunisia does not want to become Europe's border guard.
But for years already, Tunisia has been receiving millions of euros from the EU to 'manage migration' while also not putting in place a clear migration policy or adopting a law on asylum and refugees. As a result, Tunisia does not have a legal framework to govern the presence of people who end up stuck in its territory after being blocked from crossing the Mediterranean.
05.07. AJE: Africans attacked, flee Sfax, as Tunisia racial tensions explode: Many have already experienced intense hardship on their long and hazardous journeys to Tunisia. Now, after an altercation with a local man turned deadly, they are fleeing Sfax for fear of their lives. The death of the man on Monday during skirmishes with the city's Black migrants looks to have ignited the region's long-smouldering touchpaper, giving rise to clashes between residents and migrants that, on Tuesday morning, one onlooker described as "like civil war".
Overnight, many were rounded up and placed on buses before being driven to what Human Rights Watch has said is the militarised border between Tunisia and Libya. There, men, women and even children have been left to endure the intense heat while they await some kind of solution.
In Sfax particularly, concerns over food shortages, Tunisia's own tanking economy, and ingrained unemployment have all fuelled the distrust of those from sub-Saharan Africa, all the while adding momentum to the exodus of Tunisians from the country of their birth.
As Tunisians' financial circumstances have deteriorated, the presence of so many undocumented African migrants has offered a lifeline to a select few. With little money in hand, and possessed with a desperate urge to reach Europe, sub-Saharan migrants have proven ideal customers for many locals living along the Sfax coastline, who now make a living welding small, flat-bottomed boats together that will hopefully take their human cargo on one-way trips to Europe. With individual fares priced at about 3,000 Tunisian dinars, ($970) and passengers numbering up to 38 per boat, the financial returns are overwhelming for many. However, relying upon one migrant and a GPS, a crash course in marine navigation, car tyres for lifeboats, and occasionally watered-down petrol, the risks to the passengers themselves are intense.
06.07. Le Monde: En Tunisie, des Subsahariens expulsés de Sfax, sur le rivage de la Méditerranée, vers le désert: Les témoignages de ces migrants sont de plus en plus nombreux. D'après Ismaël et ses compagnons, des policiers sont venus les chercher dans leur quartier de Sfax et les ont fait monter à bord de leurs véhicules, sous les acclamations de certains habitants, en leur promettant de les mettre « en sécurité » dans la capitale, Tunis. Mais, au lieu d'aller vers le nord, ils ont roulé vers le sud et le désert.
06.07. Maroc-diplo: Tunisie : la chasse aux migrants irréguliers reprend son cours: Un tribunal de la deuxième ville tunisienne de Sfax a indiqué mercredi que quatre Tunisiens ont été arrêtés et inculpés pour avoir hébergé des migrants illégaux, rapporte le média local « Tunisie Numérique ».
Depuis le 28 juin, la Tunisie a renvoyé vers les frontières avec la Libye et l'Algérie environ 1.200 migrants sans papiers venus d'Afrique subsaharienne. C'est ce qu'a révélé Moez Barkallah, député de Sfax, à l'agence "Tap". Il a expliqué que les migrants étaient renvoyés par groupes de 200 et que quatre bus partaient chaque jour de Sfax pour les transporter. Il a aussi espéré "que trois à quatre mille migrants soient expulsés d'ici à la fin de la semaine". Selon lui, "il y a environ 7.000 ressortissants d'Afrique subsaharienne qui vivent légalement en Tunisie, dont six mille sont des demandeurs d'asile et sept mille autres sont des migrants irréguliers".
07.07. AJE: HRW urges Tunisia to suspend expulsions of African refugees: Human Rights Watch (HRW) made the statement on Thursday after hundreds of people were rounded up this week from the coastal city of Sfax and driven to Ben Guerdane, a militarised Tunisia-Libya border zone.
Also see Le Monde 07.07.: Human Rights Watch appelle la Tunisie à mettre fin aux « expulsions collectives » de migrants vers le désert
07.07. TAZ: "Wenn euch euer Leben lieb ist, dann geht": Nun sind die Westafrikaner weg. In Bussen werden sie offenbar von der Staatsmacht an die libysche Grenze gefahren und im Niemandsland abgesetzt. Augenzeugen aus dem Grenzort Ben Guarden berichten von Müttern und Kindern, die bei 40 Grad im Schatten auf eine Weiterreisemöglichkeit warten. Im Zug von Sfax nach Tunis saßen am Donnerstag zahlreiche Menschen mit Schürfwunden. Tu­ne­sie­r:in­nen reichen den meist ohne ihre Habseligkeiten oder Geld fliehenden Menschen Wasserflaschen. Doch auf der Strecke, in der Stadt Mahdia, stoppte die Polizei den Zug und lud Mi­gran­t:in­nen in Busse.
09.07. AJE: Tunisia rejects accusations of mistreatment of Black refugees: Tunisian President Kais Saied said refugees were receiving humane treatment stemming from what he called 'our values'.
09.07. SZ: Gehasst, verprügelt, in die Wüste deportiert
10.07. TAZ: Tunesien deportiert Migranten: In einer militärischen Sperrzone zwischen der tunesischen und libyschen Grenze warten mehr als 1.200 Migranten seit Tagen verzweifelt auf Hilfe. Sie waren während der aktuellen Welle von Übergriffen in der tunesischen Hafenstadt Sfax aus ihren Wohnungen vertrieben worden. In Gruppen von bis zu 50 Angreifern waren tunesische Jugendliche durch die Straßen der Stadt gezogen. Sie nahmen den aus West- und Zentralafrika kommenden Menschen Telefone, Geld und Dokumente ab.
Seit letztem Mittwoch werden die Mi­gran­ten in Bussen an die libysche sowie an die algerische Grenze gefahren. Nach Angaben des aus Sfax stammenden Parlamentsabgeordneten Moez Barkallah schicken die Behörden täglich mehrere Gruppen in das Niemandsland an der libyschen Grenze beim Grenzübergang Ras Jadir.
10.07. AJE: So thirsty they drank seawater: The refugees Tunisia pushed out: Tensions have been growing for some time between Sfax residents and the mostly irregular Black refugees and migrants drawn to the city and the chance of a boat to Europe. Racially motivated attacks on the vulnerable population had been reported with increasing frequency, and on Tuesday, officials announced the death of a local man, 41-year-old Nizar Amri, who was said to be involved in the attacks on the Black refugees and migrants. Amri's death and social media footage of his bleeding body prompted a wave of violence across the city so intense that one witness described it as "like civil war". [With footage on Youtube]
10.07. Le Monde: Dans le port d'Ellouza, en Tunisie, les migrants entre noyade et errance: Situé à 150 km de l'île italienne de Lampedusa, le village est un point de départ à haut risque pour les migrants subsahariens qui tentent de rallier l'Europe. Dimanche, une embarcation a fait naufrage au large des côtes tunisiennes, faisant au moins un mort et une dizaine de disparus.
11.07. AJE: NGOs lose contact with Tunisian migrant group, bodies found: Human Rights Watch and Alarm Phone have confirmed that they have lost contact with a large group of Black African migrants expelled from the Tunisian city of Sfax to the Algerian border.
11.07. Reuters: Tunisia moves hundreds of migrants from desolate border area
12.07. Le Monde: En Algérie, l'errance des migrants subsahariens menacés d'expulsion: Ni le rejet violent dont ils sont victimes en Tunisie ni le racisme qu'ils subissent de la part des Algériens ne les dissuadent de transiter par le pays pour rallier l'Europe.
12.07. AJE: Black refugees remain trapped along border between Tunisia Libya: Tunisia claims to have evacuated groups of refugees it had expelled to its border, but many remain.
13.07. TAZ: Wo sind die aus Sfax Vertriebenen?
13.07. TNH: Fears for stranded Black African migrants as tensions boil over in Tunisia: Videos showed police detaining asylum seekers and migrants at their homes and putting them into police cars. Hundreds were deported across Tunisia's borders with Libya and Algeria, where they were left in no man's land without food, water, or shelter.
Human rights organisations that were in contact with the people deported to Algeria have since lost touch with the group, while others sent to Libya were reportedly sheltering under a tree in the remote militarised zone with no assistance. The Tunisian Red Crescent said it had picked up and provided shelter to some 630 migrants and asylum seekers on 8-9 July, but NGOs fear many more remain unaccounted for.
14.07 AJE: Black refugees stranded in Tunisian desert witness death, misery: In a desolate area on the Tunisia-Libya border, Black refugees have been waiting in scorching heat without an end in sight.
These refugees were rounded up by Tunisian security forces in the coastal city of Sfax and brought here last week – a remote buffer zone at Tunisia's border with Libya, with no access to healthcare or any type of humanitarian support.
14.07. Spiegel: Nordafrika wird für Geflüchtete zur Todeszone: Die Videos sind verstörend. »Wasser, Wasser«, ruft ein Mann, »wir sterben!« In einem weiteren Video öffnet jemand seinen Mund, zeigt auf eine Zahnlücke und sagt: »Sie haben mir die Zähne ausgeschlagen.« Ein anderer fleht: »Helft uns!« Es gibt unzählige solcher Videos, entstanden im Laufe der vergangenen zehn Tage, sie zeigen offene Wunden, mutmaßlich gebrochene Beine, Menschen, die unter Gestrüpp am Boden kauern. [Beruht auf den Berichten von L. Seibert, HRW]
14.07. AJE: Black Tunisians lie low as violence against Black people worsens: Tunisia has a complex history with Black migrants and refugees, as well as its own native Black population.
16.07. AJE: EU and Tunisia Finalize Deal on Migration (with Video): Saied said there is the utmost need for a collective agreement on what he called "inhuman migration", for which he blamed criminal networks. Meloni welcomed "a new and important step to deal with the migration crisis", and invited Tunisia's Saied to an international conference on migration on July 23.
16.07. SZ: Europa setzt auf Tunesien: Die Behörden hatten nach regelrechten Jagdszenen auf Dunkelhäutige in der vergangenen Woche mehrere Hundert Menschen in Busse gesetzt und ohne Wasser oder Nahrung an den Landesgrenzen ausgesetzt. Die Nationalgarde hält noch rund 150 Migranten an einem Strandabschnitt direkt an dem libyschen Grenzübergang Ras Jadir in Schach. Dort seien bereits zwei Menschen an Schwäche gestorben, berichten libysche Grenzbeamte der SZ. Noch mehr Opfer scheint es unter den an der algerischen Grenze Ausgesetzten zu geben. Bei Temperaturen von mehr als 45 Grad irren nach Aussage tunesischer Menschenrechtsaktivisten 250 Migranten durch die Sahara. 15 Tote wurden dort gefunden, berichten Augenzeugen aus der Stadt Tataouine.
In Tunis demonstrierte am Freitag die durch Kais Saieds autokratischen Kurs schrumpfende Zivilgesellschaft gegen Rassismus und die brutale Behandlung der Migranten in Sfax. Nach dem Rauswurf aus ihren Wohnungen schlafen viele Migranten dort nun auf den Straßen.
Bei der Mehrheit der Bevölkerung kommt die im Februar gestartete Kampagne gegen Migranten jedoch gut an. Am Freitag bezeichnete Kais Saied die aus dem Ausland geschickten Geldüberweisungen an die 50 000 in Tunesien lebenden Migranten als weiteren Beweis einer Verschwörung gegen Tunesien. Fremde Mächte würden versuchen, die arabische Identität Tunesiens mithilfe der Migranten zu zerstören, so Saied.
16.07. TN.:Exclusif : les principaux points concernant l'Accord entre la Tunisie et l'Union
16.07. Le Monde: La Tunisie et l'Union européenne signent un partenariat sur l'économie et la politique migratoire;
16.07. Video Palazzo Chigi: Tunisi, 16/07/2023 - Le dichiarazioni alla stampa del Presidente Giorgia Meloni, con Ursula von der Leyen, Presidente della Commissione europea, Mark Rutte…
16.07. Tagesspiegel: Ohne Wasser und Nahrung zurückgelassen: Libysche Beamte retten 80 Migranten in tunesischer Wüste
17.07. Tagessschau: Zahlreiche Geflüchtete aus der Wüste gerettet
17.07. Spiegel: Migranten aus libyscher Wüste gerettet – Vorwürfe gegen tunesische Behörden: Libysche Grenzschützer haben demnach knapp mehrere Dutzend in dem Wüstengebiet gestrandete Migrantinnen und Migranten aufgegriffen. Die Internationale Organisation für Migration gab an, insgesamt 191 gerettete Menschen versorgt zu haben. IOM-Helfer sowie libysche Grenzschutzbeamte versorgten sie nach Behördenangaben mit Essen, Kleidung und einer provisorischen Unterkunft. Zunächst hatten libysche Behörden am Sonntag von rund 80 Geretteten berichtet.
18.07. TAZ: Tunesier bleiben auf dem Nachbarkontinent unerwünscht.
Unter Ausschluss von Journalisten wird das Abkommen zwischen EU-Vertretern und Tunesiens Regierung im Präsidentenpalast gefeiert. Für Familien aus dem afrikanischen Staat bleiben selbst Urlaubsreisen nach Italien oder Frankreich weiterhin nahezu unmöglich .
18.07. TAZ: Europas Türsteher in Afrika
18.07. TAZ: Ein weiterer Schritt zur Barbarisierung. Kommentar von Christian Jakob zum Flüchtlingsdeal zwischen Tunesien und der EU
18.07. AJE: Tunisia anti-fake news law criminalises free speech: Legal group
19.07. AJE: Despite EU-Tunisia deal, Black refugees pushed out 'at gunpoint': The EU has promised Tunisia $280m in aid. But on the country's frontiers, refugees and migrants are still stranded.
24.07. AJE: 'We can't endure this': Migrants suffer in extreme Tunisian heat: As a blistering heatwave hits Tunisia, migrants and refugees from sub-Saharan African countries are forced to endure unbearable conditions.
25.07. TAZ: Internationale Konferenz über Migration in Rom (International Conference on Migration in Rome): "Conference on Development and Migration" hosted by the Italian government in Rome on Sunday: The agreement concluded between the EU and Tunisia only last Sunday was the inspiration for the meeting hastily drummed up by Meloni, headed by the formula that the EU will pay 255 million euros to Tunisia, but in return expects Saied to be more efficient in preventing the departure of irregular migrants in the future.
27.07.: Infomigrants: Les Subsahariens fuient en masse les violences en Tunisie, les départs en mer depuis Sfax explosent: Ces dernières semaines, les départs en mer depuis la ville de Sfax, en Tunisie, ont considérablement augmenté. Les Africains subsahariens fuient en masse les violences racistes, les rafles et les abandons...
29.07. TAZ: In die Wüste verschleppt: Immer am Nachmittag entdeckt Rizq in weiter Ferne eine Gruppe Menschen, erst nur kleine Punkte am Horizont. Viele Stunden dauert es, bis man sie in der vor Hitze flimmernden Wüstenlandschaft besser erkennen kann. Wie in Zeitlupe schleppen sie sich zur Grenze.
Manchmal folgen den Vertriebenen in großem Abstand Jeeps der tunesischen Nationalgarde, um sie von der Rückkehr in die tunesischen Küstenstädte Sfax oder Zarzis abzuhalten. Wasser, so sagt es ein libyscher Grenzbeamter der taz, bekommen sie nicht. Ein libyscher Grenzer: "Wir finden fast täglich verdurstete Migranten. Sie wurden ohne Wasser in den Tod geschickt. Das ist eine Schande für Tunesien und Europa."
Mindestens zwanzig Leichen sollen die libyschen Patrouillen in dem Grenzgebiet bereits gefunden haben. Auch Bewohner der Wüstenoase Tataouine entdeckten offenbar mehrere Menschen, die an Erschöpfung gestorben waren. Ein von einem libyschen Offizier aufgenommenes Foto von Fati Dosso aus der Elfenbeinküste, die zusammen mit ihrer sechsjährigen Tochter Marie verdurstete, führte in Libyen zu einer Welle der Empörung. Arm in Arm lagen Mutter und Tochter im Sand.
02.08. Spiegel: Flüchtlingsdeal mit Tunesien – mehrere EU-Mitglieder kritisieren Kommission: Einige europäische Institutionen und 13 EU-Mitgliedstaaten haben die Art und Weise kritisiert, wie das am 16. Juli unterzeichnete Abkommen zwischen Tunesien und der EU-Kommission zustande gekommen ist. Auch daran, dass die Lage der Menschenrechte in Tunesien in der Vereinbarung kaum adressiert werde, gibt es Kritik. Das berichtet die »Zeit« unter Berufung auf vertrauliche Dokumente des Auswärtigen Amtes (AA).
02.08. AJE: Tunisian parliament gets defensive after Black refugee treatment criticism: Tunisia's migration policies have seen at least 1,200 Black refugees and migrants expelled to the desert regions along the borders with Libya and Algeria and there is no evidence that it will stop the mass deportations, irrespective of its agreement with the EU.
As the expulsions continued and racist attacks against Black people increased in the country, much of Tunisia's mainstream media has remained silent.
Evidence gathered by NGOs and reporters reveals a desperate situation on the border. On Monday, officials at the Libyan Interior Ministry said the bodies of six more deceased refugees had been found – all of them appeared to have died of thirst. A few days prior, reporters from the press agency AFP documented Libyan security services, or militias, intercepting hundreds of refugees and migrants, many near death, who all spoke of having been expelled from Tunisia.
Speaking in parliament last week, Interior Minister Kamal Feki denied any knowledge of the expulsion policy, claiming instead that the country was the victim of "fake news", adding that he knew, without specifying, who was behind the so-called doctored images.
Responding to the situation at the border, an EU spokesperson told Al Jazeera that while the organisation wanted Tunisia to improve its treatment of migrants, it would not retract its support for the country.
Reports
10.07. German Foreign Policy: Sperrriegel gegen Flüchtlinge (II)
17.07. German Foreign Policy: Ab in die Wüste
19.07. HRW: Tunisia: No Safe Haven for Black African Migrants, Refugees.
Security Forces Abuse Migrants; EU Should Suspend Migration Control Support
Also see Spiegel 19.07.: Menschenrechtsorganisation wirft Tunesien »schwere Misshandlungen« von Migranten vor [Hinweis auf den HRW Report].
27.07. AJE: Tunisia struggles to progress under cumbersome bureaucracy: "Job creation slowed down post-revolution, as the economy failed to produce sufficient opportunities, particularly for university graduates and the prime working-age population," reads a World Bank note. "While the state sought to compensate citizens through public employment creation and large consumer and producer subsidies, it has yet to tackle the profound distortions holding back the economy."
Subsidies on items such as bread, coffee and fuel make up a significant portion of that spending – 8 percent of the country's gross domestic product (GDP) last year. However, much of the remaining cost goes to public sector salaries, primarily administrative jobs in the country's ministries and allied state-owned enterprises.
Traditional areas of government spending, such as health, infrastructure or social care, appear, for the most part, to be overlooked almost entirely.
"It's paradoxical, isn't it?" Hamza Meddeb, a Tunisian academic with the Carnegie Middle East Centre, said. "Tunisia suffers from both too much and too little state. It has the state, lots of it, but it's all in the wrong place. Public services, for which there's a massive demand, are almost non-existent, while the administration is everywhere."
Now, as in 2011, the bulk of Tunisia's unemployed are young graduates who hold degrees that often "do not match" the needs of the market. As a result, it is the state that inevitably picks up the pieces.
Overall, about 350,000 people are employed within Tunisia's public sector, the largest employer in a country of some 12 million people with an economy that has failed to flourish under the weight of a small number of families that dominate everything from clothing stores to banks.
Statements about the mass deportations to the desert
06.07.23: HRW: Tunisia: Crisis as Black Africans Expelled to Libya Border

06.07. APS: Stop à la chasse aux migrant.e.s en Tunisie et aux expulsions vers les frontières! Aide et évacuation pour les personnes expulsées vers le no man's land à la frontière tuniso-libyenne !

13.07.23: migreurop, gisti, (and long list of signatories from France, Belgie, Morocco, Algeria): Inhuman and degrading treatment of Black Africans in Tunisia, the result of institutional racism and the externalisation of European migration policies;

17.07.23: Alarm Phone: Tunisia is not safe! Mass deportations into the desert continue while new EU migration deal is agreed

18.07. UNO: Les experts de l'ONU exhortent la Tunisie à agir rapidement pour faire respecter les droits des migrants: Les experts de l'ONU* ont exprimé aujourd'hui leur inquiétude quant au traitement prétendument discriminatoire des migrants subsahariens par la Tunisie, et ont exhorté les autorités à prendre des mesures urgentes pour mettre fin aux expulsions collectives et protéger les droits de l'homme de tous les migrants.

19.07.23: HRW: Tunisia: No Safe Haven for Black African Migrants, Refugees

21.07.23: FDTES: Communiqué de la Rencontre des peuples pour la dignité des migrant-e-s DECLARATION DE TUNIS

27.07.23 IOM: IOM and UNHCR Appeal for Urgent Solutions to Migrants and Refugees Stranded in Tunisia and Libya Borders: The International Organization for Migration (IOM) and UNHCR, the UN Refugee Agency, are deeply concerned for the safety and well-being of hundreds of migrants, refugees and asylum-seekers in Tunisia, who remain stranded in dire conditions following their removal to remote and desolate areas near the country's borders with Libya and Algeria. Others have been pushed across the borders to Libya or Algeria.

01.08. UN Secretary: UN Chief Calls On Tunisia To End Migrant Expulsions

Recent Background Articles, Statements and Reports
RLS May 2023: Tunisia's choice: bankruptcy under dictatorship or economic rebirth and democracy?
02.06.23 MCI: "This is a shame for humanity" – Update on the ongoing protest of the Refugees in Tunisia
22.06.23 MCI: CEAS, Meloni and the situation in Tunisia
July 2023 ECHOES 7: Mass deportations into the
desert in Tunisia. An article on the situation in Tunisia in the last issue of Echoes / Un article sur la situation en Tunisie dans le dernier numéro de Echoes
RLS 28.06.23: The Spirit of 1951. The EU's asylum reform and Tunisia deal are merely the latest steps in its war on migrants
07.07. Achille Mbembe on twitter: LA TUNISIE : LA HONTE
Le traitement infligé aux Africains du sud du Sahara en Tunisie est criminel, et les autorités de ce pays doivent être tenus pour responsables de chacune des morts qui en découlera.
Qu'il ne fasse l'objet d'aucune sanction ni de la part des gouvernements africains, ni des grandes institutions continentales est scandaleux.
Maillon en haillons d'une machine dévorante et infernale mise en place par l'Europe, l'Etat tunisien participe cyniquement au projet, piloté par l'Europe, de transformation du continent africain en une colonie de damnés fermée à double tour sur elle-même.
L'on prétend ainsi régler les deux épouvantails que sont l'immigration illégale et la bombe démographique que serait devenu le continent.
07.07. Jeuneafrique: Sfax, triste reflet d'une impasse politique entre Tunis et l'Europe: Les scènes de violence observées dans la deuxième ville de Tunisie illustrent le refus des autorités de chercher des réponses au problème posé par l'afflux de réfugiés, mais aussi le cynisme de l'Europe.
17.07. Amnesty: EU/Tunisia: Agreement on migration 'makes EU complicit' in abuses against asylum seekers, refugees and migrants
21.07. Labournet: In die Wüste geschickt. Danke, EU – und was sagen tunesische Gewerkschaften dazu?
26.07. ECRE: Editorial: The EU's Dodgy Deal with Tunisia is a Classic of the Genre: Undemocratic, Unlawful and Unlikely to Work: The agreement is typical of contemporary migration cooperation, a classic of the genre even. First, in terms of format and process, informality prevails. It was negotiated in a non-transparent way with an authoritarian leader and takes the form of a Memorandum of Understanding, a favoured format in migration cooperation, along with statements and Standard Operating Procedures. These are non-binding political agreements which are used to avoid the EU making a formal international agreement or treaty, which would require following the process set out in the Treaties.
26.07. Mediendienst-Integration: "Der EU-Tunesien-Deal wird Schleuser-Systeme stärken": Interview mit Ahlam Chemlali
Der Schmuggel funktioniert in Tunesien anders als in anderen afrikanischen Ländern. Hier gibt es kein großes Schmugglernetz oder gar eine Art Mafia. Es gibt keine heimliche Beteiligung des Staates oder staatsähnlicher Akteure wie in Eritrea oder Libyen. Stattdessen gibt es zwei Formen der Organisation von Migration: Erstens die so genannte "Selbst-Schleusung" (self-smuggling), bei der die Menschen ihre Reise selbst organisieren. Diese Strategie wird vor allem von Tunesiern angewandt. Sie sammeln untereinander Geld, besorgen sich dann ein Boot und Benzin, einer von ihnen steuert das Boot und dann fahren sie gemeinsam los. Viele haben Erfahrung mit dem Steuern von Booten, weil sie in Küstennähe aufgewachsen sind oder früher in der Fischerei gearbeitet haben.
Was ist mit den Personen, die aus Subsahara-Afrika kommen, schmuggeln sie sich auch "selbst"?
Nein. Sie kennen sich in der Regel nicht mit Booten aus, da die meisten von ihnen nicht aus Küstengebieten kommen. Und ihnen fehlen persönliche Verbindungen in den tunesischen Küstenstädten. Sie sind eher auf Mittelsmänner angewiesen, die sie mit Menschen an der Küste zusammenbringen – was die zweite Form der Organisation von Migration darstellt. Aber auch hier handelt es sich nicht um eine große mafiöse Struktur, sondern meist um Fischer, die mit Fischfang nicht genug Geld verdienen und durch die Unterstützung der Migrat*innen ein zusätzliches Einkommen haben.