"This is a shame for humanity" – Update on the ongoing protest of the Refugees in Tunisia
June 2nd, 2023 - written by: migration-control.info
Cover picture: The Refugees in Tunisia protesting in front of the UNHCR office in Tunis on May 26, 2023. Their banner reads "UNFAIR. The UN Refusal Agency", denouncing the UNHCR's lack of support for their demands.
For about three months, around 200 migrants and refugees have been protesting in front of the offices of UNHCR and IOM in Tunis to demand their rights. Especially with the escalation of racist violence against Black people in Tunisia at the end of February, their lives in Tunisia are in danger and they turned towards these institutions to demand their evacuation to a place of safety. Their protest camp in front of the UNHCR has been neglected by the responsible authorities and violently evicted by police forces on April 11, 2023. But the refugees and migrants continue their sit-in under the worst conditions in front of the IOM and their protest in front of the UNHCR, most recently on May 17, May 26 and May 29.
One of the protesters talked about their situation, the difficulties, hopelessness but also the care and organization amongst those enduring in front of the IOM and upholding their demands – as they are left with only one option: "to fight for evacuation or cross the Mediterranean."
What has triggered the protest and what has happened since the start of the sit-in in front of the UNHCR at the end of February 2023?
We are protesting because we have been going through a lot in Tunisia. On February 21, 2023 the president held a racist speech. This triggered a lot of attacks on Black Sub-Saharan people. People were raped, others put into prison. Tunisia is not safe for Black Sub-Saharan, whether you are a refugee or an immigrant. But none of the institutions that are mandated with our protection live up to this mandate. We are not safe here. We need to be evacuated out of Tunisia.
Thus, we started protesting. Because of the protest, some of us were sent to jail. The police know us [the leaders of the protest who were seen in videos of the protest posted on the Refugees in Tunisia's twitter account] and came up with allegations. But it is clear, and they also know, that they are the ones who provoked the situation. Thank God we're out of prison. But we are tired, we are dying slowly here. Some of us have mental issues, some of us have other illnesses. And we are really exposed. The police can do anything they want to do with us. It is not easy. The struggle continues.
And since we have been trying to give our voice to the world, that this is what is going on in Tunisia, we still have not seen any response or any help to evacuate us out of Tunisia. We told our message to the United Nations, African Union, European Union, Amnesty International – but no response, no help from them, no action has been taken. Despite our protest, these institutions and organizations are once more leaving us behind and do not cooperate with us. They are just giving us deaf ears. The organizations neither care about the children nor about the pregnant women. We are stuck here without access to education, good medication, and justice. We just want to be out of Tunisia. Here, we are just like in the blue sea, no rescue in sight, and we have no other option than to drown.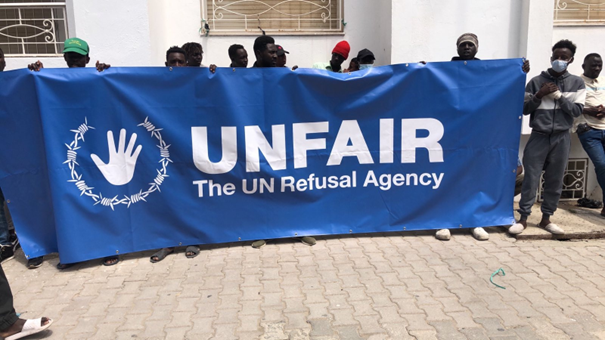 Has crossing the Mediterranean become an option to those protesting?
No one wants to find a solution for us and we are left with no other option than to leave everything behind, just to get out of this messy experience we have been going through. No one would risk his or her life to cross the Mediterranean. But because we are not safe, we have no choice. We want our dreams to come true. Some people might think that we are happy risking our life crossing the Mediterranean. This is not true. It is the situation in Tunisia that is pushing us to take this risk. We are not happy to put our family, our wives, our sons and us, in a boat to cross the Mediterranean Sea.
We know that all friends who cross the Mediterranean will be able to have their career, their dreams will come true, their sons will be able to go to school and be a better person. But here your son can not be a better person because of the situation around. Our children are growing up getting the perception that the people here don't like them. This trauma that they go through will follow them. We don't want our children to become traumatized like that.
How is the situation currently in the camp, especially after the eviction mid-April?
The situation is getting worse. We are around 150 people, maybe more, and at the moment there is a food shortage. And still more people are coming. Just last week, a new group of people that left Sudan because of the ongoing war arrived from Libya. Now, we are all just stuck in the same situation, we are just here. It is not easy.
Among the 150 people in the camp, catching up to 200, maybe up to 16 children and more than 20 families, including pregnant women, are living in the camp. When we started the protest in front of the UNHCR, we were 250 to 300 people. But because of the violent eviction on April 11, 2023 some people were so afraid that they left. The police scared them. And some people have fled the country.
[caption id="attachment_69841" align="aligncenter" width="605"] Behind barbed wire and closed shutters – the IOM seals itself off well from the protesters who have been demanding their evacuation under the most adverse conditions since February.[/caption]
How have the arrests influenced the group protesting?
Some of us are in prison. During the eviction on April 11, about 150 people were arrested, of whom 70 were released immediately. Others remained in prison. But a lot of people had been arrested before, after the presidential speech. When we were arrested on April 11, I met most of them. There were so many Black people in prison. There, everyone shared their stories, problems and the reason for their arrest.
From those who have been released, some came to the camp. But not all of them are here. There are still people in prison: One example are people from the camp who went to the police station to make a report, because a pregnant woman was attacked by Tunisian people. Two of those people who wanted to report the attack were detained. Since then, we have not heard from them, we do not know what they are facing. From us who were arrested on April 11, only six or seven are still sleeping in the camp. Most of them are afraid that the police will do the same thing again, this is the reason for them not being in the camp anymore.
I think we lost 20 to 25 % of those who had been here before. Some of them had lost hope, as nothing changed. Some are afraid of the violence we face: One of the protesters who is close to a staff member of the IOM heard that the police are planning on chasing us away. This made four or five families leave the camp.
You are a big group of people. How do you as protesters organize among you?
We normally held meetings in the camp. Everyone comes with his or her ideas on what we should do and not do. We discuss these ideas and come to a conclusion on what we are going to do. This is how we organize ourselves.
We care a lot for each other. Once there is an external threat to us, we think about the women and children first and we try to protect them, so they won't be affected. We stay in the frontline to make sure they don't. But the society does not care, neither about the women nor about the children: But they should not be going through this kind of stuff.
On April 11, the protest was, according to official statements by the Tunisian Ministry of Interior, evicted by the police on behalf of the UNHCR. It has now been four weeks since the eviction. How have the UNHCR and IOM staff behaved since then?
Everything stood still when most of us were in prison and people were hoping and waiting for us to come back. We were expecting, especially after people were released from prison, that staff members would come and talk to us, but so far, no one came. Nothing happened.
But even if something changes for us, these organizations will go back to the same old system. This is how IOM and UNHCR are operating. During our protest, one of those working at the UNHCR protection unit told us "Fuck you immigrants and refugees. You are going to die in Tunisia." There is a video of it posted on Twitter, but no action has been taken. The system is corrupt and it's not working. The staff of international organizations do not follow protocols.
And it is not the first time that we come out with these demands. I have been part of so many protests. I know that when some international organizations say that they are going to help, they are just giving us tears. It's just because we are Black, they don't care about us. But they should know one thing: we are human beings. We are just fighting to survive, trying to go back to society, we want to belong, to be part of society. We want to contribute our part in whatever positive activity and development. But people don't care about us, they don't care about the dreams some of us are having, about our professional careers.
You said you have been disappointed by human rights organizations. What do you expect from civil society, journalists, and activists?
There has been an incident when the police brought me to their station during the eviction, where the police tortured us, beat us as if we committed a crime or were terrorists. Three of the journalists who had often come to the IOM and the UNHCR were there too. One of them said to me that I am the one posting on Twitter, doing the tough guy. Since the police beat me and it hurted a lot, I screamed. The journalist then continued, "You are a tough guy, stop screaming". The journalist was mocking me.
Because of that, since I came back from prison, I think that we are just informants for the journalists. They come to get their article, to sell it and make money. That's the reason I don't talk to journalists anymore. Some people are pretending to help, but the opposite is the case. I am tired of that.
Some activists really want to push and campaign for our situation or any human right. But even European people have been put under threat, others have been arrested because they tried to mingle with us and help us. The situation here in Tunisia is crazy.
Thanks for talking to me about all this. Is there something you want to add?
If European people will help us, trust me, they will benefit from us. Our motherland Africa is failing to protect us, to accept us. Look what I'm going through, this is part of Africa. If I had committed some kind of crime, no problem, let the law take its cause. But this is not what this situation is about: women are brutalized, attacked, some have been raped.
It's a shame for the African Union. The African Union is complicit, as it knows about our situation. I tweeted multiple times on their page about what is going on here. Their response: they don't have the resources. They are thinking more about resources than about our life. But our life is more important than resources.
There are restrictions that the African Union could put on any country in Africa that is violating human rights. There should be some kind of consequences. But these folks do not care about it, all they care about is being in their house or in another country, having a nice life there. All their children are in Europe, but they don't want us to be there too.
Even when we are crying, begging them to take us to our motherland, maybe Rwanda, because it's part of this continent, they will come up with some flimsy excuses. They don't care about us.
It is a shame to our fellow African who support this and a shame to all African people who are supposed to help us and are now giving us tears. They don't care, their sons and daughters are not in this kind of situation, they might not be thinking about us. One day they will be judged.
I know many of us will die. But there will be more people coming up to raise their voice about what we are going through. We are not the first that are going through these things.
The African Union and humanity don't think that this world should be a better place where we all accept each other, try to render assistance to each other, no matter the color, the religion, the race, the ethnicity, the tribe – we should just make it a better place.
But I also see: Life is not fair, because of all the things we are going through. We are hopeless, we are waiting. At some point we give out our last breath and have a rest. But for now, we are not going to rest, we still raise our voice and explain what is going on.
The interview took place on May 16, 2023.