ECOWAS (Economic Community of West African States)
Published June 12th, 2022 - written by: Leonie Jegen and Franzisca Zanker
*with research assistance by Nanzala Gonda, Abdur Rehman Zafar and Rebecca Schmid
This report concentrates on the Economic Community of West African States (ECOWAS), which is a regional political and economic union of fifteen countries located in West Africa. More specifically it focuses on one of ECOWAS'[1] central objectives: the facilitation of free movement in the region. In the following, the foundation and protocols of ECOWAS, everyday mobility in the region and colonial legacies of mobility governance are introduced. Then problems with the implementation of its treaties and protocols are discussed, before ECOWAS in relation to the EU is considered, including issues of capacity-building, bilateral policies undermining free movement. The report ends with a discussion on future directions of EU-ECOWAS relations.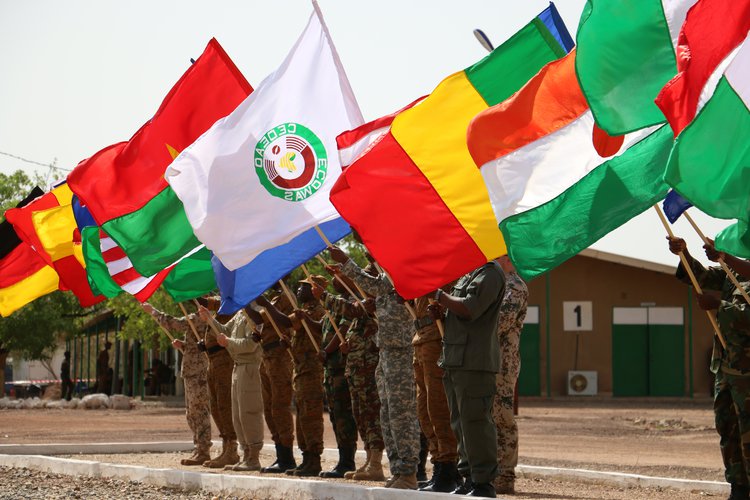 (cc) U.S. Army Southern European Task Force, Africa
1. ECOWAS and the Free Movement Protocol
At the time of writing ECOWAS has 15 Member States: Benin, Burkina Faso, Cabo Verde, Côte d'Ivoire, the Gambia, Ghana, Guinea, Guinea-Bissau, Liberia, Mali, Niger, Nigeria, Senegal, Sierra Leone, and Togo. Mauritania, one of the founding members, left the body in 2000.  The community was launched in 1975 with the goal of promoting economic integration and development in the region and thereby improving the living standards of its member states.  The ECOWAS Treaty foresees the long-term removal of obstacles to the free movement of goods, capital and people. In terms of the free movement of people, Article 27 (1) of the founding Treaty clearly spells out the objective of establishing a free movement zone.[2] It states:
"Citizen of Member States shall be regarded as Community citizens and accordingly Member States undertake to abolish all obstacles to their freedom of movement and residence within the Community."[3]
The intended establishment of a free movement zone within ECOWAS was further spelled out in the 1979 Protocol A/P.1/5/79 relating to Free Movement of Persons, Residence and Establishment. It defines the right of entry, which grants ECOWAS citizen the right to enter any other ECOWAS state and stay up to 90 days without a visa. It further foresees that the building of the ECOWAS Free Movement Zone should proceed in three phases: the first phase seeks to introduce the right of entry and the abolition of visas, the second phase pertains to the introduction of the right of residence, and the third phase foresees enshrining the right of establishment in the respective national legal frameworks (including access to non-salaried activities, the possibility of creation and management of enterprises and companies as well as the principle of non-discrimination).[4] To spell out these phases, two supplementary protocols were adopted. In 1986, the right to residence was further defined through the 1986 Supplementary Protocol A/SP.1/7/86, and in 1990 the right to establishment in the Supplementary Protocol A/SP.2/5/90. While the first phase, which foresees the visa-free entry of citizens for up to 90 days has been successfully implemented throughout the region, the second and third phase have been delayed since. The reasons for this as discussed in the following.
First, while these protocols aim to build the legal and institutional framework to promote free movement, from the mid-80s onwards ECOWAS member states pushed for more restrictive elements within the free movement architecture.  In 1985, provisions covering the treatment of 'illegal immigration' and expulsions were spelled out in the Supplementary Protocol A/SP.1/7/85. Second, weak administrative capacity of ECOWAS and weak regional monitoring mechanisms have resulted in the incomplete implementation of the ECOWAS free movement protocols.[5] Meanwhile, its member states are also part of other free movement zones, such as the Community of Sahel–Saharan States (CEN-SAD), or the West African Monetary and Economic Union (WAEMU). Yet, today ECOWAS is considered the most integrated of the total eight Regional Economic Communities that exist within the framework of the African Union.
Before considering the implementation of the ECOWAS protocols more closely, the following section will describe the present and historical mobility context within the ECOWAS zone.
2. Everyday mobility in the region (lived mobility)
Mobility plays an important role in the West African context (see also Sahel report). In the pre-colonial area, mobility was a crucial factor to secure livelihoods for many communities in the West African context, including the search for more fertile lands.[6] Further, extreme ecological conditions triggered the need to trade and exchange.[7] In the Sahelian context, access to mobility constituted in some regions constituted a marker in the socio-economic hierarchies which structured societies.[8]
Today, regional mobility continues to be an important element shaping everyday life within ECOWAS. A quote from an interview with a Nigerien development worker who stated "la migration, c'est une tradition, c'est une mode de vie"[9] in March 2019 illustrates this.  According to estimates, 84 percent of the migratory movements of ECOWAS citizens are directed to other destinations in the sub-region[10] and regional mobility is six times more common than mobility towards Europe.[11] Within the West African context, three central forms of mobility can be distinguished: intra-communal cross border mobility, circular migration, and pastoralism.
Intra-communal cross border mobility occurs in border zones, where crossing borders is part of everyday life.[12] In this context, cross-border mobility within border zones may occur across international borders, albeit within the same intercommunal spaces.[13] Not just in the ECOWAS context, but in the African context more generally, borders often remain arbitrary in practice, not least due to their colonial origins.[14] In other words, state borders, in the West African context, but also elsewhere, do not necessarily constitute a denominator of socio-political belonging.[15] Indeed, in the African context more broadly, mobility and border practices on the ground often have greater consequences than international state demarcations . For example, some researchers have shown that the 1885 Berlin Conference, while having important on paper implications, in general did little to alter mobility practices along the then newly drawn colonial borders. [16]
Circular migration constitutes an important livelihood strategy for many households and communities in the ECOWAS zone, especially within the context of its Sahelian members, which are shaped by extreme weather conditions.[17] Important destination countries are the coastal Southern states within the ECOWAS zone, but also non-ECOWAS states such as Libya and Algeria. Considering the Nigerien context, Boyer has found that here the mobility of some has become a safeguard for the immobility of the wider communities, as the income of the circular migrants supports those that remain immobile.[18]
Another important form of mobility in the ECOWAS zone are non-sedentary groups which practice pastoralism. These groups travel with their livestock, which make up their livelihood, along well and long-established routes, including across international borders. The ECOWAS Transhumance Protocol of 1998 and a regulation relating to its implementation of 2003 provide the regional framework which safeguards cross-border transhumance and recognizes the economic value of this form of mobility. This form of mobility is a frequent source of conflict between pastoralists and local farmers over questions of access to land and the destruction of farmlands by cattle. These relations were worsened by jihadist activities which have affected where pastoralists can go. ECOWAS has thus-far not played a proactive role in trying to resolve these issues. [19]
3. Colonial Legacies shaping the context of mobility governance
Colonization severely impacted the political and economic context in which mobility was practiced.[20] Slave trade and forced labor migration to mines and plantation sides in Southern West African countries[21] or the groundnut basin in Senegambia[22] were part and parcel of colonial rule. Forced labor in the French colonial empire was only abolished in 1948.[23] The number of those forcibly recruited was significant.[24]
Under colonial rule the way territory was divided up and ruled changed according to Eurocentric ideas of space.[25] Cross-border mobility was feared by colonial administration to allow for circumventing forced labor and tax extortion,[26] and besides indirect rule,[27] the colonial administration introduced several technologies of population governance.
These techniques included among others the introduction of laissez-passer documents to treat mobile populations as belonging to a well-defined, delineated territory, for example in Mauritania,[28] as well as parts of Niger.[29] Further, French colonial rule introduced agricultural and property rights, in parts of Mauritania[30] as well as Niger.[31] Finally, population censuses were carried out across the region, to again link a population with a clearly demarcated territory of a colonial administration. This for example happened in South Western Niger in 1899, were cattle constituted the central source of rural wealth and their mobility sparked colonial anxiety over loosing tax income. In this context, mobility under colonial rule also constituted a way to escape the exploitative labor and taxation regime of French colonial rule.[32]
While the spatial logic of a population belonging to a clearly demarcated territory survived colonialism and is very much embedded in the dominating political order of nation states, the lived socio-political realities of mobility and belonging in the region partially circumvent this logic.[33] Hence, the establishment of the ECOWAS free movement zone needs to be understood as building an institutional framework around already existing cultures and practices of mobility. This occurs in a context in which nation states have been following both agendas of restricting (unwanted) movement and facilitating other forms of movement.
4. Problems with implementation
While impressive on paper, the ECOWAS free movement protocols are in practice not fully implemented. There are numerous reasons for that, including the interests and administrative capacities of ECOWAS member states, the political weakness of ECOWAS as an institution, as well as the growing agenda setting of EU-ropean actors who pursue a migration control agenda that also effects mobility governance in the region (see section 6 further below).
This section will consider the internal implementation problems more closely, exploring first, the problems at the borders and second, xenophobic policies within ECOWAS before concluding on the weaknesses of ECOWAS as an institution.
4.1.  Problems at the border: ID Cards, harassment
Article 3 of the 1979 Protocol stipulates that holding a valid travel document is a condition of entry within the ECOWAS region. The Article 2(1) of the 1985 supplementary protocol provides that ECOWAS member states are obliged to provide such documentation. This dependence on administrative processes poses a structural problem since documents are hard to access for many due to lacking interaction with state bureaucracies and costs involved. Commenting on the gap between laws and practices in mobility governance Akinola recalls, "citizens in this region, and in Africa as a whole, are disconnected from their governments, and as such are not part of the regionalism project."[34]
Three central identity documents which are considered valid exist within the ECOWAS region. These are the ECOWAS Travel certificate, which was introduced in 1985 with the supplementary protocol. Second, the ECOWAS-tagged national passport, which is in operation since 2000 and finally, Biometric Identity cards, which have been established since 2014 and which have so-far been introduced in Ghana and Senegal. This range of different documentation has caused practical issues over which documents are accepted in practice at what border post.
For example, the more recently introduced biometric ID cards can, in Ghana, only be used when crossing ECOWAS borders by land, but not in air travel. The Ghana Immigration Service, the key executive institution for migration and border governance, based within the Ministry of Interior, does not consider these entry documents "endorsable" – as they cannot be stamped with an entry and exit stamp.
Further, despite the biometric ID cards being formally endorsed at the ECOWAS level, a region-wide roll out of biometric ID documents remains a distant goal. The strengthening of biometric ID cards, along with the introduction of other tools of population and border management, are often framed as means to build state sovereignty by state actors.[35] Often externally funded (see next section), they need to be situated within the migration-security nexus. In this context, it is not surprising that despite the challenges of introducing biometric identity documents in practice, they are generally well received in policy discourse. Nigerian authorities understand them as a tool to both strengthen the regional security architecture,[36] as well as economic integration.[37] Gambia's Ministry of the Interior stated in 2017 that biometric passports would counter the use of fraudulent documents,[38] while Ghanian authorities hold a longer-term "grand vision of a centralised population data system."[33]
Despite the wide range of different identity documents existing at the ECOWAS level, a more crucial element that curtails formalized institutional mobility governance in accordance with the protocols, is the limited state capacity to register populations in more remote regions within the West African context.[39] For example in 2010-2011, the average registration rate for children in the Senegalese national registries was at 75 percent. In some more remote regions, such as Tambacounda, which borders Mali, this registration rate was as low as 55.2 percent. [40] ECOWAS citizen who have not formally registered will not be able to access identity documents, and are therefore precluded from formally crossing the borders, and in turn accessing their free movement rights.
Further, racketeering and extortion is a common practice at border crossing points within the region.[41] This in some cases may safeguard the accessibility of freedom of movement in a context where restrictive policies, such as migrant smuggling legislation, restrict mobility (see below).[42] However, extortion is also often linked to harassment and abuse being practiced by border officials within the ECOWAS zone. Data collected by the Mixed Migration Centre in 2018 and 2019 indicates worrying levels of abuse perpetrated by state agents at border crossing points in Mali, Burkina Faso and Niger, which may be indicative of wider trends in the region. According to the interviews of persons on the move in the region conducted by MMC West Africa, in Mali 78 percent of all incidences of physical violence against migrants were reportedly carried out at checkpoints by state officials, security forces/ policy/ military or immigration officials/ border guards. 42 percent of incidents pertaining to sexual and gender-based violence (SGBV) against migrants were carried out by the same authorities. In Burkina Faso, 60 percent of all cases of physical violence have been reportedly linked to state officials, while in Niger 40 percent of cases of physical violence were conducted by the same set of actors.[43]
4.2.  Xenophobic policies in ECOWAS
While establishing the grounds for a free movement zone, the ECOWAS protocols have also defined grounds for the exclusion of ECOWAS citizens within the zone. The 1979 ECOWAS protocol in itself grants scope for more restrictive migration policies. In article 4, it allows for the further definition of an "inadmissible migrant" in national law. It states:
"Notwithstanding the provisions of Article 3 above, Member States shall reserve the right to refuse admission into their territory any Community citizen who comes within the category of inadmissible immigrants under its laws."
What this may amount to can be defined domestically, and thus shows that ultimately national law can always be developed to counteract ECOWAS rules.
The 1985 supplementary protocol further spells out grounds for excluding individuals from the right to free movement in the zone. It was adopted against the backdrop of several ECOWAS member states carrying out large-scale expulsions of other ECOWAS citizens during economic recession. This protocol further defines the grounds on which a migrant from the ECOWAS zone can be considered "illegal" and be excluded from the territory. According to the 1985 supplementary protocol an "illegal migrant" from the ECOWAS zone is "any immigrant citizen of the Community who does not fulfill the conditions stipulated in the different Protocols."[44]
The supplementary protocol further notes that the regularization of "illegal immigrants" also depends on "the existence of an ample political consensus making regularisation of stay desirable or necessary," as well as "the acceptability of the immigrants by a large section of society."[45]
Restrictive immigration policies culminated with the mass scale expulsions carried out by Nigeria in the mid-1980s. Prior to the expulsion the government revoked articles 4 and 27 of the 1979 Protocols. Estimates of the numbers of ECOWAS citizens expulsed vary. Some sources estimate that between 0,9 million to 1,3 million non-Nigerian ECOWAS citizens, mostly Ghanaians, were deported from its territory.[46] According to others sources over two million Ghanaians were affected by mass expulsion following the infamous "Ghana must Go" campaign in 1983.[47] The Nigerian expulsions do not constitute an isolated incident in the wider history of mobility governance in the region. In Ghana, mass-expulsions took place as early as 1954 and 1969, and in Ivory Coast in 1958 and Mauritania in 1989.[48]
Further, nearly all ECOWAS states have policies which restrict the access to certain kind of economic activities for "foreigners."[49] One such example constitutes the ongoing exclusion of Nigerian street vendors from trading in Ghana, high registration costs and police harassment constitute major obstacles,[50] constituting a breach of the protocols. More recently, diplomatic relations between Ghana and Nigeria have become strained in the wake of strong allegations of mistreatment of Nigerians in Ghana.[51]
4.3.  Weakness of ECOWAS as an institution
The institutional response of ECOWAS towards its member states' infringements of the free movement protocols has remained largely weak and relying on soft power.
Notwithstanding, the difficulties in the implementation of the ECOWAS Free Movement Protocols, Member States are obliged to create the relevant national legal frameworks to ensure the domestication of the ECOWAS Treaty as spelled out in Article 5(2 -3) of the ECOWAS Revised Treaty.[52] According to Article 5 (2) : "Each Member State shall, in accordance with its constitutional procedures, take all necessary measures to ensure the enactment and dissemination of such legislative and statutory texts as may be necessary for the implementation of the provisions of this Treaty." While Article 5 (3) adds that: " Each Member State undertakes to honour its obligations under this Treaty and to
abide by the decisions and regulations of the Community."  This also applies to the Protocol Relating to the Freedom of Movement of Persons, Residence and Establishment, as per Article 13 (3) of the Protocol it "forms an integral part of the treaty."[53]
ECOWAS Heads of State can, according to its 1993 Treaty, impose sanctions against a Member States,  through the Authority of Heads of State and Government of the Community. Sanctions have been imposed recently towards Mali,[54] Burkina Faso,[55] and Guinea.[56] However, no sanctions have to date been imposed  on issue pertaining to the Freedom of Movement Protocols. Here, the jurisdiction of the ECOWAS Court of Justice has played a more important, albeit still limited role.
The ECOWAS Court of Justice constitutes the central legal body which ensures the provisions of the various community treaties.[57] The Court was established under Article 15 of the revised ECOWAS Treaty of 1993. Its inauguration took place in 2001 and its first session in 2004.[58] The Court's central task is that of: "resolving issues arising from the ECOWAS legal and policy instrument as they affect member-states and their nationals thereby eliminating obstacles to the integration process."[59] According to Article 15 (4) of the revised ECOWAS protocol its judgements are binding for all Member States. Yet, the Court has not acted as a strong promoter of the ECOWAS Free Movement Protocols.[60] While some cases pertaining to matters related to freedom of movement have been delegated to other issue areas such as human rights violations, others have been dismissed by the court as not having the competence to rule over the issue.[61]
Besides the court, ECOWAS has also used soft power instruments to tackle issues relating to the infringement of its free movement protocols by Member States. An important example constitutes the earlier mentioned exclusion of Nigerian traders in the participation of Ghana's retail market. While the Ghana Investment Promotion Centre law (GIPC Act 865, Section 27) excludes non-Ghanaians from petty trading, in contradiction with the protocols, ECOWAS responded by merely setting up bilateral meetings between both countries with no visible impact.[62]
To address the relatively weak ECOWAS institutional structure, the ECOWAS Heads of State and Government in 2006 agreed to mandate the Executive Secretariat to define the ECOWAS Common Approach to Migration, which was adopted in 2008. It was in this time frame that the EU's migration interests towards the African continent became increasingly prominent. The next section will take a closer look at the effects of EU involvement on both the regional and national level in the ECOWAS region as a factor further curtailing free movement in the region.
5. The Role of the EU in the ECOWAS region
As stated above, the free movement protocols have existed for several decades, and despite the problems of implementation and corruption, free movement and migration more generally is broadly accepted both as a social reality and as being beneficial for development in the region.[63] One of the major donors and political partners in the region is the EU. The EU is involved in the ECOWAS region in various ways, including primarily through various capacity building projects, but increasingly EU policy making in the migration field is carried out on a bilateral level between the EU or their member states and individual ECOWAS member states.  Capacity building projects can distort the priorities of the regional body and the bilateral approach undermines ECOWAS as an institution, and can work detrimentally against the freedom of movement in the region.
5.1.  The EU and ECOWAS: Capacity-building?
The EU broadly supports the ECOWAS Commission in its work, including on migration and free movement. Whilst some of this tends to be at a regional level, even capacity building frequently takes place at a national level, so not necessarily supporting the capacity of ECOWAS level migration governance per se. The following will provide a chronological overview of milestone projects of EU migration capacity building towards ECOWAS and its Member States.
In 2000, the Migration Dialogue for West Africa (MIDWA) was created, with funding and observation from the EU, implemented by the IOM. The MIDWA was created as a consultative process to enable ECOWAS member states to further develop policies on migration matter, initially focused on internal matters.[64]
Meanwhile, a variety of funds, many from different EU funding streams, supported the development of migration policies on a national level. Between 2000 and 2021, eight ECOWAS countries developed their own migration policies, a further six are underway or pending adoption/ validation and only Guinea Bissau has not started a process yet, see Table 1.
Table 1: National Migration Policies developed after the 2000 MIDWA process launched
ECOWAS Member State National Migration policy
Benin Politique nationale de la migration (under development)Burkina Faso Stratégie nationale de migration for 2016 – 2025 (adopted 2017) Cape Verde/ Cabo Verde National Immigration Strategy 2012 and Proposed Immigration Policy (Comissão Interministerial para Estudo e Proposição das Bases da Política de Imigração) Cote d'Ivoire Stratégie Migration et Développement (2017 not validated) The Gambia National Migration Policy (2020) Ghana National Migration Policy (2016) Guinea Politique nationale de la migration (under development) Guinea-Bissau Nothing concrete planned. Liberia Revision of Liberia's Aliens and Nationality Act underway Mali National migration policy (2014) Niger Politique nationale de la migration (2020) Nigeria National Migration Policy (2015) Senegal National Migration Policy (2018) (pending adoption) Sierra Leone National Labour Migration Policy of Sierra Leone (2018) Togo Stratégie Migration et Développement (under development since 2012)
Source: compilation by authors, as of November 2021.
Another EU-funded five-year project (2013-2018), which more directly included the ECOWAS level was the "Support to Free Movement of Persons and Migration in West Africa" (FMM), which aimed "to maximize the development potential of free movement of persons and migration in West Africa". It was implemented by IOM, ICDMP and ILO. The project works at a regional level (supporting the ECOWAS Commission in regional policy development and harmonization, data management, border management, strengthening MIDWA), national level (supporting member states to develop and adopt national migration policies) and local level (informing citizens about their rights). To achieve these goals, a major component was the Demand Driven Facility for National Institutions (DDF), created to address existing institutional gaps and migration capacity building needs in ECOWAS Member State. The EU funded three staff members under the FMM for the ECOWAS free movement directorate, employed as consultants for the IOM: the ECOWAS committed to keep the position after the end, but at the time of writing it was unclear whether this happened and where the budget will come from. The FMM project has been criticized as being too broad resulting in minimal changes across the region.[65] Further, rather than improving institutional capacity at the ECOWAS-regional level, its focus has been on building national capacities and to a degree improving exchange between member states for example through training border staff or those involved in anti-trafficking measures.[66]
A lot of the capacity building projects and other initiatives are implicitly or explicitly tied to European objectives of migration control. For example, in 2008, ECOWAS adopted its "Common Approach to Migration (CAM)", building on the EU-funded MIDWA process. The CAM focuses only on two main issues, namely intra-regional migration and irregular migration to Europe. The inclusion of the latter in this ECOWAS policy document highlights the imposition of external interests: in the words of political analyst Idrissa, the document highlights: "a European-imposed migration agenda that prioritizes EU interests over Africans, which undermines African ownership and neglects local priorities, expertise, and capacities." [67]
Lastly, initiatives which may offer space for a more balanced discussion have often found difficulties in their long-term political value. ECOWAS is, for example, also one of the partner institutions (alongside the EU) of the African Dialogue on Migration and Development (Rabat Process), which brings together 57 state partners and additional key stakeholders to openly discuss migration questions in a spirit of partnership. Here a central topic of interest is the reduction of irregular migration. The process primarily focuses on the member states, however, and has been marred by political tensions. [68]
5.2.  The bilateral turn
In addition to the focus of the EU on funding capacity building and developing national migration plans under MIDWA, an increasing focus on bilateral agreements and cooperation by the EU and their member states further undermines the ECOWAS institution and ultimately free movement. Post-2015, the EU agenda has also more concretely changed, neglecting  ECOWAS and rather prioritizing bilateral relations with individual ECOWAS member states. Both ECOWAS as an institution as well as its free movement agenda are undermined by these EU-ropean (bilateral) interests in migration control. Moreover, the bilateral developments reiterate the European interests dominating the ECOWAS migration policy space.
Following the 2015 Valletta summit, the 2016 EU Partnership Framework identified five priority origin and transit countries. These were Nigeria, Mali, Niger, Senegal, and Ethiopia. Four out of the five priority countries are ECOWAS member states. Even though the EU's concerns on migration were already infused into ECOWAS' agenda, the prioritization of four ECOWAS member states in the Partnership Framework by the EU constituted a new turn in EU-ECOWAS relations. It signaled the EU's interest in ECOWAS member states rather than ECOWAS as an institution.
One area of focus which prioritizes member states over the institution are anti-smuggling initiatives. These are formally aimed at protecting people on the move from what is often portrayed in EU documents as criminal and abusive smuggling networks and often conflate notions of trafficking and smuggling. In practice, it has infringed on free movement, effectively restricting movement along certain routes in the name of shutting down smuggling operatives.
As a result, African states have seen the launch of various new institutions and initiatives in the field of anti-smuggling since 2015. Among others, the European Border and Coast Guard (EBCG) established so-called Frontex Risk Analysis Cells in eight priority countries, seven of which are in West Africa.[69] Further, since 2018 French and Spanish police men hold operational capacity to investigate smuggling cases through EU-funded Joint Investigative Teams in Niger.[70] A similar EU-funded project to establish a Joint Operational Partnership in the field of anti-smuggling is currently underway in Senegal.[71]
Further, an ongoing European funded project (PROMIS) works towards the full institutional and legal implementation of the UN Protocol against the Smuggling of Migrants several countries in the region. This anti-smuggling agenda does not run in the interest of ECOWAS and their member states. Indeed, by 2018, only Niger and Nigeria had implemented the UN Protocol against the Smuggling of Migrants.[72] This is because smuggling is complex to define in the ECOWAS region, and concerns have been that raised travelling independently (outside of smuggling networks) even increases the risk of harassment at the borders. [73]
What is clear is that the EU gives little priority to free movement in its bilateral-level engagement with ECOWAS member states, focusing strongly instead on its own priorities, particularly on readmissions from Europe.[74] On (forced) return too, the ultimate interest of the EU is to create bilateral agreements which facilitate deportations. In reality, they have struggled to do so - see Table 2. Thus, these either take on the form of non-binding informal agreements,[75] like with The Gambia, or occur at EU member state / ECOWAS member state level.
Table 2: Return agreements with ECOWAS member states with the EU and EU member states
ECOWAS Member State Bilateral Return migration agreement with the EU Bilateral return migration agreement with EU Member State
Benin ·       France (Pact on joint migration management 2010)
·       Switzerland (2015)
Burkina Faso ·       France (Pact on joint migration management2011)
·       Malta (Memoranda of Understanding; 2013)
Cape Verde/ Cabo Verde Mobility Partnership (2008);
EURA (2014)
·       France (Pact on joint migration management 2011)
· Spain (Immigration agreement 2008)
Cote d'Ivoire GP 2018
SOP under negotiation
·       Italy (Exchange of Letters 2018; Joint Way Forward 2018; Memoranda of Understanding 2020);
·       Switzerland (Memoranda Of Understanding 2021)
The Gambia GP 2018 ·       Italy (Police Cooperation Procedure 2010; Memoranda of Understanding 2015; Good Practices Procedure on identification and return 2018)
·       Malta (Memoranda of Understanding 2014)
· Spain (Immigration agreement 2008)
·       Switzerland (Migration Agreement 2021)
Ghana JMD 2016;
SOP under negotiation
·       Italy (Memoranda of Understanding 2010)
· Spain (Memoranda of Understanding 2005)
Guinea GP 2017 ·       Germany (2018)
·       Italy (Good Practices Procedure on identification and return 2017)
· Spain (Immigration agreement 2007)
·       Switzerland (2011)
Guinea-Bissau ·       Portugal (1981)
· Spain (Provisional Agreement 2003 ; Immigration agreement 2008)
Liberia Mali SOP under negotiation; JMD 2016 · Spain (Immigration agreement 2009)
·       Under negotiation with France
Niger JMD 2016 ·       France (Tripartite Agreement on irregular migration 2017)
·       Italy (Memoranda of Understanding 2010)
· Spain (Provisional Agreement 2008, Provisional Agreement 2015, Tripartite Agreement on irregular migration 2017)
Nigeria Common Agenda on Migration and Mobility (2015); EURA negotiated since 2016 ·       Austria (2012);
·       Finland (Memoranda of Understanding 2015)
·       Ireland (Immigration Matters 2001)
·        Italy (Migration Agreement 2011; Memoranda of Understanding 2017; Standard Operation Procedures 2019)
·       Malta (Memoranda of Understanding 2014)
· Spain (Immigration Agreement 2001)
·       Switzerland (2003; Memoranda of Understanding 2011)
·       UK (Memoranda of Understanding 2004; Memoranda of Understanding 2016)
Senegal ·       France (Pact on joint migration management 2009)
·       Italy (Memoranda of Understanding 2010; Memoranda of Understanding 2018);
· Spain (Memoranda of Understanding 2008)
·       Switzerland (2003 stalled)
Sierra Leone ·       Switzerland (2004) Togo
Source: Taken from Cassarino (2021)[76], Bilateral readmission agreement unless otherwise said; if only signed in italics
SOP = Standard Operating Procedure for the identification and return of persons without an authorization to stay
GP = Good Practices for The Efficient Operation of the Return Procedure
JMD = Joint Migration Declaration
EURA= European Readmission Agreement
Either way, the turn towards working bilaterally undermines ECOWAS and free movement in the region. By further fragmenting ECOWAS through focusing on bilateral agreements, the EU agenda, particularly after 2015, undermines the regional institution. For one, it leaves out some of the ECOWAS member states from the EUTF development fund, which has increasingly focused aid funding on migration goals. For example, countries such as Sierra Leone and Liberia were unable to receive funds from the EUTF, since they are not significant countries of origin or transit towards the EU.[77] Out of 25 EUTF projects with a regional dimension only seven mention ECOWAS in the Action Fiches at all.[78] None of them have the explicit aim to improve free movement within the region.
In sum, the bilateral agenda has undermined the ECOWAS institution, especially given the fact that the bilateral agreements only address specific member states of interest and particular concerns. Overall, the EU support in the region primarily focuses on restrictive elements of migration control, which fosters a securitized agenda.  This can have serious consequences for facilitating free movement within the region, including within individual member states like Niger. Though fragmented interest amongst ECOWAS member states and a lack of ability to incentivize or penalize free movement and delays in implementation no doubt also plays a role, as outlined previously, ultimately the EU agenda is further damaging the regional institution.[79] For example, a study by Castillejo found that AU officials had raised concerns that EU migration partnerships with countries such as Mali and Niger have involved the securitization of borders, including checkpoints within a country, that hinders movement for ECOWAS citizens.[80] Such restrictions to mobility can have a direct, detrimental effect on their livelihoods, especially as these cross-border movements are subject to corruption and harassment amidst tighter controls and restrictions. [81]
6. Future Directions of EU-ECOWAS relations
An additional factor which could further affect the ECOWAS free movement regime is the EU-ropean focus on security in the region. This is arguably a bigger priority than free movement initiatives, whilst also focused on the Sahel and thus – once again – moving beyond the ECOWAS level. [82]
First, at the ECOWAS level, the EU focus is thus-far more on security than strengthening free movement. Most recently, in October 2021 the West African Police Information System (WAPIS) Data Collection and Registration Centre was inaugurated in the Gambia, the eighth after similar ventures have already been set up in Benin, Burkina Faso, Ghana, Mali, Mauritania, Niger and Nigeria. Funded by the EU under the aegis of the ECOWAS Commission, the WAPIS Programme aims to create national police data systems in each ECOWAS Member States, Mauritania and Chad as well as a regional platform for stronger police data exchange to battle cross-border crime amongst other issues. [83]
Second, much of the focus remains on the G5-Sahel. Created in 2014, the intergovernmental framework includes Burkina Faso, Chad, Mali, Mauritania and Niger and seeks to coordinate the security and development policies of its member states. In 2017, the G5 Sahel Joint Force was launched with the aim of fighting terrorism and organized crime in the region. The Sahel now finds itself in the securitization era and part of an emerging European foreign policy that externalizes the bloc's security.[84] Thus, the EU has developed close links with the G5 Sahel in support of its work towards sustainable peace and development, including regular political dialogues and three "Common Security and Defence Policy" (CSDP) missions to train and advise the G5 Sahel national armies and Joint Force namely the EUCAP Sahel Niger, EUCAP Sahel Mali and the EU training mission in Mali (EUTM). In addition to the EU-funded and operated missions – there are other missions like Operation Barkhane in the Sahel, with operations in Chad, Burkina Faso, Niger and Mali and MINUSMA in Mali, the entire region has been named a "Regional Security Traffic Jam" (c.f. G5 Sahel Migration Control). Though part of the aim of these CSDP missions is also to address human trafficking and migrant smuggling (difficult to define in the West African context - see above), the financial, political and military focus on the G5, further reduces the impact of ECOWAS as well as the aim of improving free movement. However, at the time of writing, ECOWAS has recently (January 2022) become instrumental in imposing sanctions on Mali, thus taking a direct role in the Sahel conflict, which may renew their relevance for EU stakeholders (though not necessarily for the people of West Africa and their free movement prospects of course).
Beyond security, in terms of migration policies, in future years there could be a renewed focus on engaging with the ECOWAS level. It could be that due to the lack of success of improving migration cooperation at a member state level, which has for example led to visa sanctions being announced for the Gambia in 2021, in future the EU turns back to focusing on the ECOWAS institution in the hope that this heeds more success for them. This could strengthen the institution but is unlikely to change the overall thematic focus on securitized migration governance, which undermines free movement. Also, civil society activists have continued to engage across the region, and this could evolve into a counterforce for a more genuine engagement with free movement in the region. Further, notwithstanding the EU-ropean obsession to "fix" West African populations within their respective geographic positions, mobility practices are likely to persist statist imaginaries of migration control and enact "freedom of movement" from below.